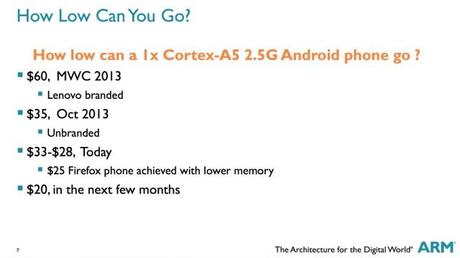 Read Also: Acer's new Aspire Switch 10 Works Both as Notebook and Tablet
The British manufacturer of low-cost microprocessors, ARM claims that a cheap $20 Android smartphone is coming "in the next few months." The company has teased about these entry-level smartphones at its' Tech Day event in Austin. Providing details on the evolution of smartphones, ARM showed how its possible to make an entry level Android-powered smartphone for just $20 with ARM's single-core Cortex A5 based SoC.
ARM expects to see these cheap but powerful phones this year. The company hopes that these phones will help to connect the rest of the 4 billion people with latest technologies.
[Via: Anand Tech ]
(All images, trademarks shown on this post are the property of their respective owners)
Follow @nrjperera - Roshan Jerad Perera