On Thursday night, Arkells rolled into Oshawa and the Tribute Communities Centre on the Rally Cry Tour, and it was awesome.
It was also different, because instead of going as an accredited media member, I was on the General Admission floor with my fiance for date night and to take in the show. I didn't take notes. I only have cellphone photos (I cleaned some of them up for this post to share). I don't have the setlist to share with you. I just went and enjoyed the concert.
In thinking about that and still wanting to share something with everyone in this post, I decided that instead of writing a blow-by-blow review, I would share a list of thoughts or takeaways from the Oshawa stop on the Rally Cry Tour.
I do want to mention that I feel fortunate to be able to do this, 1) because Jess is great and loves the band and this made a great date night, and 2) because we did have the chance to cover Arkells this summer in Toronto at Budweiser Stage. Trish was able to grab some really good photos, I took notes and wrote, and we did our regular coverage that night.
Check that out here: Arkells Sparkle in Toronto on A Rally Cry Summer Night!
Now, here's my list!
25 Thoughts from the Floor at the Rally Cry Tour!
☆ 1) It was different to just be a fan (or close to it) and not be at the show on assignment. I didn't take notes. I don't have the setlist. And I sang and danced way harder than usual.
The Arkells' 3 rules are ones we should all try to live by...
1. Sing and dance.
2. Take care of each other.
3. Leave your problems at the door and enjoy yourself - if only for a moment.
COIN was a lot of fun to open the show and are continuing the trend of cool non-country music out of Nashville, Tennessee.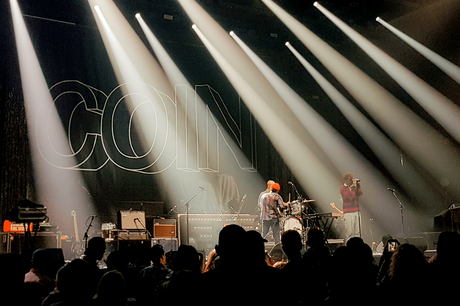 ☆ 6) Max in a fringed denim jacket and cowboy jay was a look I didn't know I needed in my life, but I did.
☆ 8) Mike D is so so good and I'm not sure he gets the credit he deserves.
☆ 9) Tim, in Max's words, is the best drummer in Canada. I'm not arguing with him.
☆ 10) Anthony plays keys in ways I would never ever dream of. Just watch this...
☆ 11) The Northern Soul Horns have become an integral part of the live show and I love them.
☆ 12) They weren't there, so I missed the Arkettes. I love them too.
☆ 13) This was the first time I've seen Arkells play indoors following the CNE, WayHome, and Budweiser Stage x2 - and maybe the smallest crowd in the last I've seen them with in the last five years.
☆ 14) I have never been to an Arkells show where to crowd wasn't completely all-in. That streak continues.
The back catalogue selections like Book Club and Cynical Bastards and Pullin' Punches were great to hear with the newer releases.
☆ 16) During the show I sent one text message. It went to a friend in the music industry that knows that band and it said this... "MAX IS THE BEST F#CKING FRONT MAN IN THE COUNTRY." her reply was simple, "you are correct hahaha."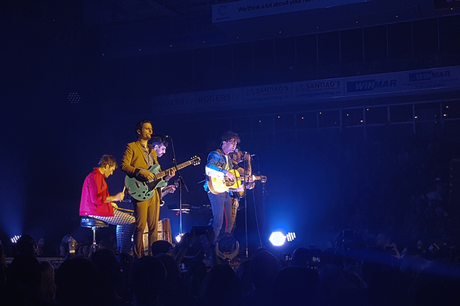 ☆ 18) After working his way through the general admission crowd on the floor in a conga line, Max ran right past us. I'm sorry that my photos of that turned out like hot garbage because I really wanted to use the caption, "The Running Max", sorry.
☆ 19) As a longtime fan of her as a musician and a person, it was cool to see Amanda Wilkinson at the show in GA having a good time.
☆ 20) It was also cool to run into an old high school pal, John - who some may know from the Top 30 alternative countdown on 89.1 The Max or his days on the radio at B101 in Barrie or 102.1 The Edge in Toronto.
☆ 23) COIN came back for the Robyn cover, and I loved that too. Bringing out the opening act in the encore for a duet is one of my all-time favourite moves.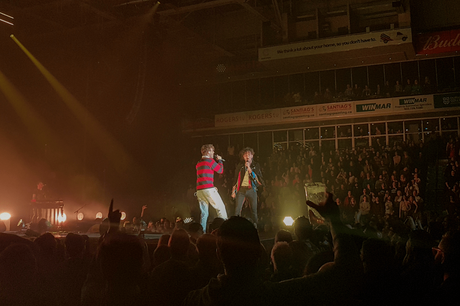 ☆ 25) I really do love watching this band play live. The sets always work and the fans always have fun and there's never a feeling of "I've seen all this before" or of any kind of boredom.
There you go. That's the list. 25 thoughts that popped into my head between the start of the show and now as I sit here and think about how much fun I had and how much I'm already looking forward to seeing Arkells again and hearing new music when they have it and whatever else they want to share!
Photos of Coin, the Rally Cry Tour - Oshawa, ON
Photos of Arkells, the Rally Cry Tour - Oshawa, ON