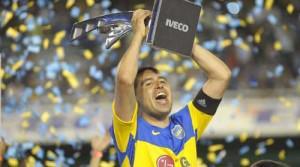 The passion for the Argentine football is one of the largest in the world, and on February 10 street corners and stadiums will be crowded due to the beginning of the second part of the national championship.
The Argentine national championship is divided into two: Apertura (opening), which happens in the second half of each year and Clausura (closing), which runs from February to July. Yes, the names seem to be reversed, but still: it is true.
Boca Juniors was the last champion in December and it has a guaranteed spot in the 2012 Copa Libertadores, the South American version of the Champions League, the winner of this cup will receive spot in the FIFA Club World Cup.
River Plate, Boca's biggest rival, continues playing the second division, known as First National B, since the team was relegated last year for the first time in 110 years. The series B, has only one tournament per year. It began in August last year and ends in June 2012.
The system of dispute Series A and B look a little different, but they have similarities: both are 20 teams and the seasons begin and end on dates close. What changes is that in the first division, there are two championships (single round-robin, with 19 matches) and the Series B, is only one a single-season double round-robin format, totaling 38 games.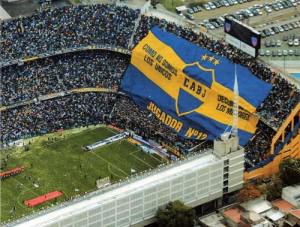 If you are in Buenos Aires next week, there are two good options for matches to watch and to receive an understanding of the love for the Argentine football: the first is the match between Boca Juniors and Olympus, happening on February the 10th (friday) at the famous La Bombonera.  There is a possibility to go with Expanish in a special area, with transportation, beer and pizza included. Another match that happens in the capital Buenos Aires is between Atletico Rafaela and Banfield at Monumental Nuevo – the River Plate stadium, February the 12th (Sunday).
Throughout the year, we promote tours for the games of the best teams, then, with the exception of January, you can live the big excitement of Argentine football.
Quick Facts
The tournament begins on February 10 and ends on June 24 and will have 190 matches
Boca Juniors won the Apertura last tournament (in December) with five rounds of anticipation and was unbeaten during the season (12 wins and 7 draws)
The top scorer of the season was Ruben Ramirez (Godoy Cruz team) with 12 goals
There is a possibly that in the second half of 2012, the first division will also have one championship per season
The games are broadcast on TV Publica, the TV channel of the national government and also on cable TV stations