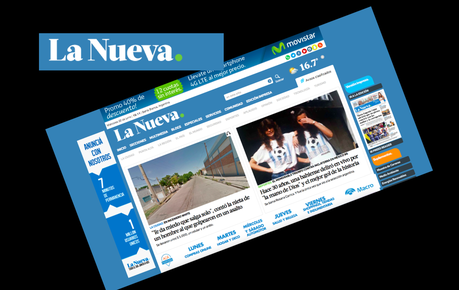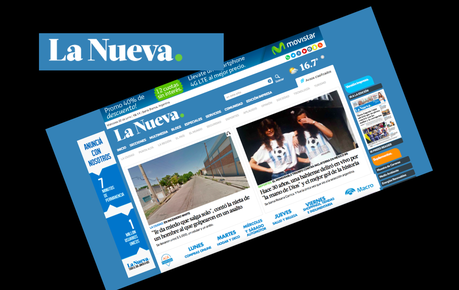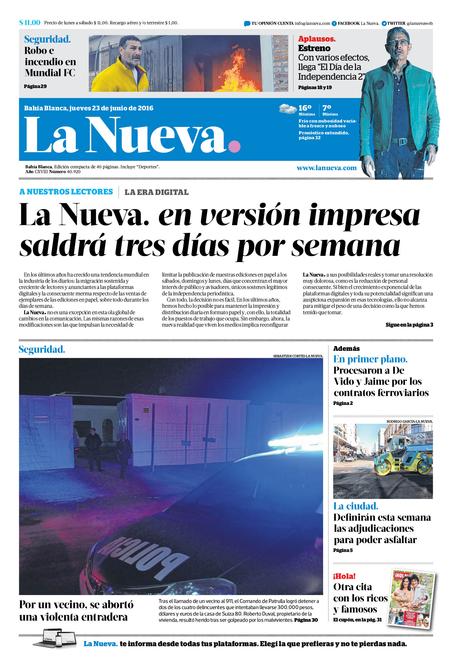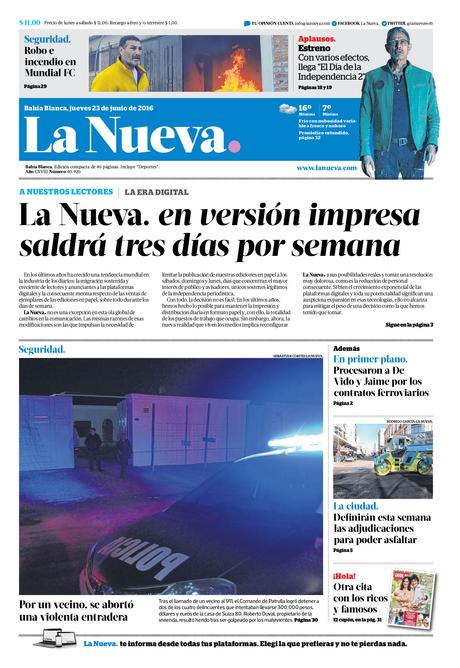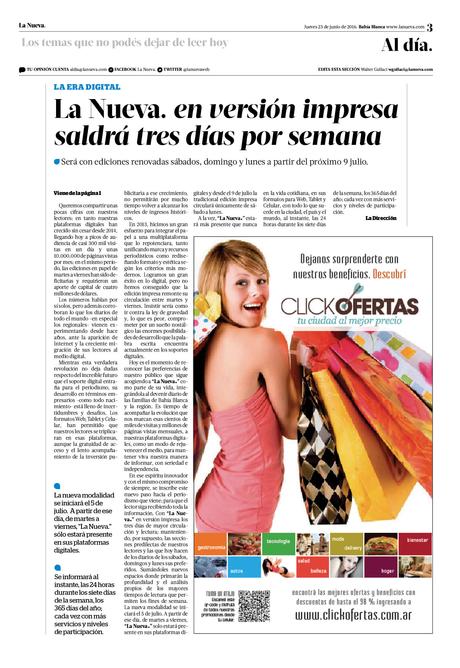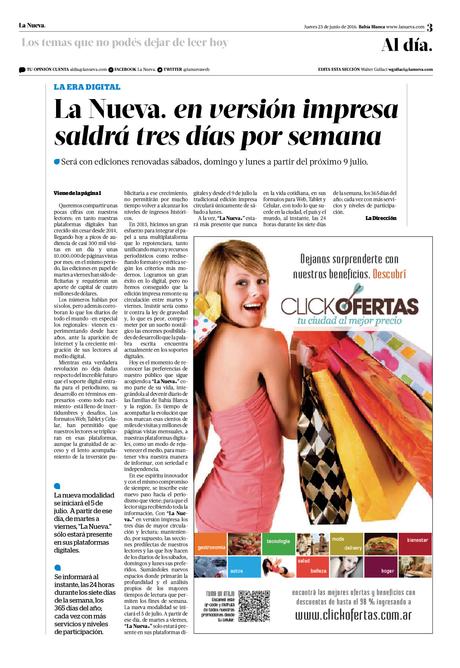 La Nueva's print edition made announcement of the change June 23.
For La Nueva, the daily newspaper of Bahia Blanca, in the south of Argentina—and one with which I have been associated as a consultant through at least three projects—including my first one outside of the United States—it is a historic moment.
The La Nueva management has announced that as Tuesday, July 5,  the newspaper will publish a print edition only Saturday, Sunday and Monday.  The digital edition will, of course,  be available 24/7.
While La Nueva is the first continuously published Argentine newspaper to discontinue the daily print edition, historians of Argentine journalism may remind us that it was another newspaper, Perfil, a short lived daily launched in Buenos Aires in 1998, that did it first. Perfil,  published by the Perfil group, ceased publication in print after a few months in existence, but it continues as a digital publication. It also publishes in print Saturday and Sunday.
As readers of my blog recall, our last Garcia Media Latinamerica collaboration with La Nueva was in 2013 when the newspaper switched from a broadsheet to a tabloid format.
In a note to the La Nueva team, the management explained the reality of the situation today:

"In 2013 we made a great effort to integrate the newspaper with a multiplatform approach that would fortify it, redesigning the newspaper's format, its aesthetics, according to the most contemporary trends.  We did get a measure of success in the digital part, but not with the print edition, and we have not been able to get the Tuesday through Friday circulation to show any improvement. So why go against the law of gravity, and, what is worse, to compromise our nostalgic dream?."
I have had good conversations about this change with Alejandro Massot, associate publisher of this 118-year old newspaper that was founded by his greatgrandfather.  "This newspaper is our life, our family, and every step we take takes into account the essence of that.  We also take very seriously the fact that some people in the newsroom will have to go. That is very sad to us, but it is the reality of the times we live in the publishing industry," he said.
For La Nueva, the good news is that, while print edition readership declined, the needle points up and up for its digital readers.  Since 2014, digital readership has increased to 10 million pages viewed per month (100.000 daily visits with some highs of as many as  290,000 for special events) .  According to Abel Escudero, digital editor, the La Nueva digital audience grew by 25% in the past two years. These numbers are likely to continue climbing, according to the management .
"That's the reality," says Vicente Massot, Editor/Publisher of La Nueva.
"So, in our new proposition, and in the spirit of preserving our brand, and preparing for the journalism of the future, and so that our very loyal readers will continue to receive all the information they are accustomed to on a daily basis, we will put our emphasis on lanueva, fortifying what we do with the web, tablet and phones.  La Nueva will continue to be the source of credible, reliable information for what happens in the city, the country and the world.

"At the same time, we will beef up the Saturday, Sunday and Monday print editions, the days when readers seem to need the printed newspaper the most, with more in depth reading, analysis, entertainment for the entire family and the Nueva magazine, in addition to all the sports that readers are used to."
http://m.lanueva.com/la-ciudad-impresa/870027/la-nueva-en-version-impresa-saldra-tres-dias-por-semana.html
"La Nueva." en versión impresa saldrá 3 días por semana
Será con ediciones renovadas sábados, domingo y lunes a partir del próximo 9 julio.
The eyes of the Argentine media on La Nueva
This step by La Nueva is watched with interest by every other editorial house in Argentina.  While La Nueva is the first to move in this direction, it will not be the last.
In fact, as Alejandro reminded me, in my first address to the newsroom of La Nueva in 2013, I mentioned that the day would come when the daily newspaper would not appear in print.  I said at the time:
"For some newspapers this may come in two months and for others in two years, and I have no idea when it will happen to La Nueva, but you must rest assured that it will happen."
It happened three years later, and today is the last weekday print edition of La Nueva as it forges ahead to continue its rich journalistic history, the newspaper that is a family member for thousands of Bahia Blanca residents.
We wish the La Nueva team much success as it embarks into this new adventure.  We, too, will watch with interest.
The Perfil story (in Spanish)
http://adepa.org.ar/lanzar-un-diario-de-papel-en-el-siglo-xxi/?utm_medium=email&utm_source=Newsletter_ADEPA&utm_campaign=10_tendencias_globales_de_la_industria_periodistica&utm_content=10_tendencias_globales_de_la_industria_periodistica+MsgID_DAAL245779
TheMarioBlog post #2458
Please enable JavaScript to view the
comments powered by Disqus.
comments powered by

Disqus