Written by Bob Arndt, Vice President of Lean Supply Chain Solutions
Distribution centers are driven by four primary costs:
Labor (usually the largest cost)
The building itself
The IT systems needed to support the operation
Materials handling equipment (MHE)
Material handling equipment is usually given the least focus, which is a mistake, because it does drive costs.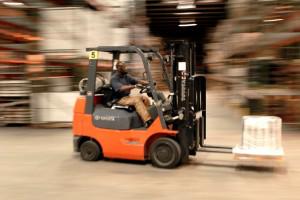 For example, having a dense storage strategy with narrow aisles and automatic guided vehicles drives less cost than having an operation that requires flex space and wider aisles for lift truck maneuvering. Another example would be using a 5,000-pound forklift when you really only need one for 2,500 pounds.
Matching equipment to your needs helps eliminate excess costs. There are all kinds of ways that material handling can drive costs – buying versus leasing, performing preventative maintenance internally versus outsourcing it, etc.
More and more, lean concepts are being applied across the supply chain to improve execution; lean is no longer a term heard just in manufacturing. You can streamline processes, expedite movement, and reduce costs between the manufacturer and end consumer. Instead of focusing all of your attention on simply removing labor costs, look for the opportunities to find efficiencies by taking a lean approach to material handling.
Learn how you can apply lean to make MHE and other processes in your operation more efficient.
Leave us a comment to exchange perspectives on MHE!