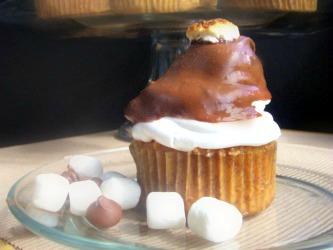 I was delighted by autumn's arrival this past weekend.  I'm ready for a change.  I'm ready to breathe crisp, clear air.  I'm ready to be amazed by varying shades of reds and yellows bursting from the trees.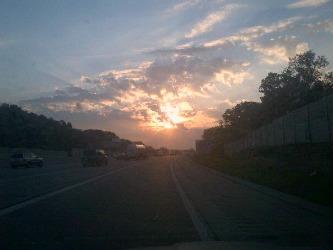 I'm ready to be so awestruck by the morning sky that I can't help but pull over to take a picture.  Even if it makes me late for work.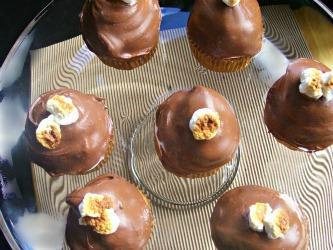 I'm ready to traipse through a pumpkin patch and to get lost in an apple orchard.  I'm more than ready to huddle around a bonfire and to roast many, many marshmallows.  Oh, yes.  And I'm majorly ready to stuff my face with S'mores.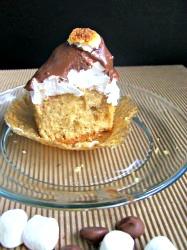 And, while I wait until my first bonfire of the season, I shall eat these S'mores Hi-Hat Cupcakes. Grahamy-graham cupcakes topped with marshmallow frosting that is piped super tall and then dipped in chocolate.  Oh, yes.  I'm ready for Fall, delicious cupcakes, and everything this season has to offer.  How about you?  Are you ready?
Graham Cupcakes
An Original Cakediva Recipe
Yields: 18 cupcakes
2 sticks (1/2 cup) of butter, room temperature
5.25 ounces (3/4 cup) of ultrafine granulated sugar
2 ounces (1/3 cup) of light brown sugar
3 large eggs – separate the eggs (you'll use both the yolks and the whites)
2 tablespoons of pure honey
1 1/2 teaspoons of vanilla extract
5 ounces (1 cup) of graham cracker crumbs (use food processor)
7 ounces (1 cup) of cake flour
2 teaspoons of baking powder
1/8 teaspoon of salt
3/4 cup of milk
Preheat your oven to 350 degrees. Line muffin tins with cupcake liners.  First, cream together the butter and both of the sugars until light and fluffy.  Then, beat in the egg yolks, honey, and vanilla extract.  In a separate bowl, whisk together the graham cracker crumbs, cake flour, baking powder, and salt. Next, alternate adding the dry ingredient mixture and the milk into the butter mixture, stirring well after each addition.
In a separate bowl, beat the egg whites (room temperature) into soft peaks. Then, gently fold the egg whites into the batter until well combined.  Divide the batter evenly into the cupcake tins.  Bake 18-22 minutes, until a toothpick inserted into the centers comes out clean.  Cool completely before frosting.
For the Marshmallow Frosting and Chocolate Coating, I love, love, love Elinor Klivans's recipes, which I found HERE.
I was so focused on dipping the cupcakes into the chocolate that I totally forgot to snap any pictures.  If you need a little guidance, Bakerella has a great photo tutorial, which you can find HERE. (She's so fabulous!)
For the Marshmallow Garnish/Topper: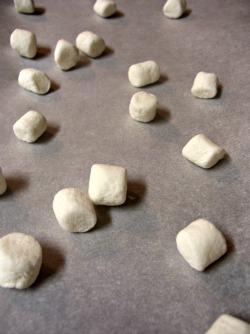 Turn on the broiler to your oven.  While it's warming up, line a baking/cookie sheet with parchment paper.  Pour about two dozen (24) mini-marshmallows onto the sheet.  Sort of spread them out.  Otherwise, you'll end up with one big pile of goo.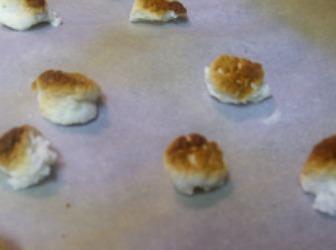 Place the baking sheet with marshmallows into your oven for no more than 8 seconds.  Seriously, if you do much longer than that, they will be charred.  Let them slightly cool before you garnish your cupcakes.  Otherwise, the marshmallow will melt the chocolate coating.  No joke.
Enjoy!