Overview
LASIK is a quick and easy procedure providing results in improved eyesight. Most LASIK eye surgery candidates spend a lot of time worrying about "Are you awake during LASIK?" And the answer is YES you will be awake during the LASIK eye procedure. There are many reasons why you should be awake as well as reasons why this should not cause you any fear or concern for this surgery. It is completely understandable to fear any surgical procedure however you should know that the entire LASIK eye surgery process will take only a few minutes for each eye. The total time spent in the surgery suite will be far less than the time taken in the recovery room.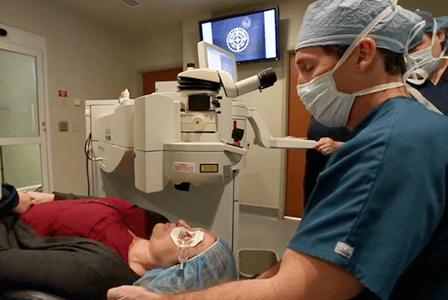 Hence while it is true that you will be awake during LASIK surgery, the time for the surgery is actually very minimal. Most patients who have had undergone this surgery say that they wish they had not spent so much of energy fearing or worrying about this procedure. Also there is no need to worry if you accidentally blink or move your eyes during the surgery because due to advanced LASIK technologies, you can keep your eyes steady as the surgeon provides vision correction results to help you see clearly.
So why are you awake during LASIK? While performing this procedure, the LASIK surgeon will need you to respond to simple directives about where you should focus your eyes. The movement is necessary as the surgeon uses lasers for correcting your vision. You will be offered a mild sedative to ease your anxiety and numbing drop for your pain in case you fear about being anxious during the procedure.
Read on to find out how does LASIK work when you are awake.
Awake During LASIK: How it Works
Patients are awake and alert during LASIK eye surgery. The surgeon will administer anesthetic eye drops numbing the eye before the procedure starts. This will help reducing the pain and discomfort during the operation. They will use an instrument to keep your eyes open so that you don't have to worry about blinking throughout the procedure. From there they will create a LASIK flap in the eyes with iFS advanced bladeless laser to expose the cornea. An ultra-precise, cool beam laser applies to CustomVue treatment that reshapes the cornea to appropriate curvature based on iDesign WaveScan. The flap is then closed and some patients may notice clearer eyesight as early in the morning after the procedure.
Star S4 IR Laser with Activetrak
Now that you are awake during LASIK, there is a chance that your eyes will accidentally move during the procedure. The Star S4 IR Laser will ensure that your treatment is correctly applied even if you move your eyes unintentionally. It uses the Activetrak technology and iris recognition for monitoring the movements of your eyes. If they accidently shift even slightly during the surgery then the laser will reposition to keep it on track and ensure placement of treatment for optimum results. Star S4 IR Laser is known to produce exceptional vision correcting results.  As per many studies, using a laser with automated eye tracking system can help to provide better overall outcomes as compared to the older system without eye-tracking technologies. They can also reduce the chances of potential LASIK complications. However, the Star S4 IR Laser may not be suitable for those who have had injured the center of their cornea. Also, it may not be the best option for those who have had undergone refractive surgeries in the past.
With advanced LASIK technologies and lasers, patients can expect a quick and easy procedure with outstanding vision correction results even when they are awake during LASIK. To learn more about the advanced technologies in LASIK and how they can help you to see as clearly as possible, get in touch with us by scheduling your free LASIK consultation online.
Source:
LASIK Eye Surgery in India – Patient Testimonial
Top 5 Questions Must Ask for Your LASIK Surgeon
Cost of LASIK Eye Surgery & Can I Afford It?
Lasik Eye Surgery in India Vs USA
4 Reasons Lasik Eye Surgery Is the Perfect Holiday Gift
Plan your Eye Surgery in India with Indian Healthguru Consultants