Are these melting moments or yoyo biscuits?
What do you think?
Although I have baked two versions of melting moments at According to
What is a melting moment?
In Australia, when two melt-in-your-mouth cookies are sandwich together with a buttercream filling, it creates a melting moment.
Correct me if I'm wrong. I like to assume that melting moments are typically Aussie as I have never seen any cookies sandwich looking like these what I have baked in this post, being named as melting moments in other countries.
here with Donna Hay's recipe and here with Masterchef's recipe, I have to say that most melting moments look typically like these that I have baked in this post and also the Masterchef ones that I have baked before. What is a yo-yo biscuit?
Bake. Play. Smile, her yoyo biscuits are also two melt-in-your-mouth cookies sandwiched together with a buttercream filling. Unlike melting moment, Bake. Play. Smile. claims that the yo-yos must have one extra special ingredient and it is custard powder and said that the melting moments should contains cornflour instead of custard powder.
Then, why are the Masterchef's melting moments contains custard powder, not cornflour?
Too confusing!!!

In short, the cookies of both melting moments and yo-yo biscuits have to be soft, crumbly and shortbread-like to create an ultimate melting texture and this is exactly what I had when I ate one of these cookies!
Whether these are melting moments or yo-yo biscuits, these yummy treats that I made are actually two melt-in-your-mouth German butter cookies sandwiched with a typical vanilla buttercream filling. Not surprisingly, the German cookies that I'm using today is mostly adapted from two of my Singaporean blogging friends,
German butter cookies???
Honestly, I don't really understand why are these cookies named as German butter cookies as they are not related to any German cultures and traditions at all. All I know is these German butter cookies are actually the most popular cookies to bake within Asian food blogging circle.
I can't see any German in these cookies as the cookies are specially made with potato starch which is an ingredient that I can't find in any Woolies and is available in only a few selected Coles. Ironically, this rare ingredient is commonly found in most Asian grocery shops. Is potato starch an Asian ingredient? Yeah because most Asians use potato starch for our cooking particularly to thicken our soup or gravy.
Small Small Baker and Baking Tai Tai and this is how I baked my melt-in-my-mouth treats...
Here's the recipe that I have mostly adapted from Small Small Baker and Baking Tai Tai
To make 50 little cookies or 25 melting moments or yo-yo biscuits:
125g unsalted butter, soften at room temperature
40g icing sugar**
1 tsp vanilla extract or 1/2 tsp vanilla paste
125g potato starch
80g all purpose flour*
*To make custard cookies, use only 70g all purpose flour plus 10g custard powder
*To make green tea cookies use only 75g all purpose flour plus 5g matcha / green tea powder
** The cookies are not too sweet and so do not reduce this amount of icing sugar.
Extras to add into 50-60 cookies:
1/2 cup (about 60g) dark chocolate, chopped into small pieces
10 Oreo cookies, chopped into small pieces
Line baking tray with baking paper. Preheat the oven at 160°C or 150°C fan forced.

Sift icing sugar into the mixing bowl of an electric mixer. Using an electric mixer with paddle attachment, beat butter, icing sugar and vanilla until fluffy and light in colour.

Sift in potato starch and flour (plus custard powder or matcha powder) and use a spoon or spatula to mix all ingredients to form a soft dough.
Mix in the extra (chopped chocolate of oreo cookies) if required.
Divide dough into small portions about 8g each and roll them into balls. Arrange the divided portions onto the prepared baking tray with about 2-3 cm in between the cookies. Using the back of a fork, press each ball of dough slightly to flatten the cookies and to form a nice stripy pattern on them.
Bake in preheated oven at 160 °C for 13-15 mins. Do not over-bake cookies. The cookies do not have to be darker in their colour.
Vanilla buttercream to fill 25 melting moments or yo-yo biscuits:

125g unsalted butter, softened at room temperature

To assemble one melting moment or yo-yo, pipe a good dollop (about 1 tbsp) of buttercream on the flat bottom side of a cookie. Sandwich the cookie by placing another cookie with its flat bottom onto the piped buttercream. Press the cookie slightly to glue both cookies plus the buttercream together.
Repeat the same assembly step with the remaining 24 sets of cookies.
Enjoy these yummy treats immediately.
This post is linked to the event, Little Thumbs up organised by Doreen from my little favourite DIY and me, Bake for Happy Kids, hosted by Cheryl from Baking Taitai at this post.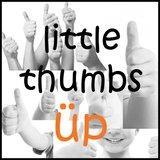 . For more details, please see
Our Little Thumbs Up event starts on the first day of the month until the last day of the month. Please join us! To join, simply cook or bake any recipe with the theme of the month which is TEA for July 2015 and link with us at this post anytime until 31st July 2015.
this.
What after July 2015? Only one month left for our down-under winter... LOL! And Jess from Bakericious will be the next hostess of August 2015 and her theme is BROWN SUGAR!
Don't forget your thumbs up or display this badge! And make sure that: (1) Your post must be a current post preferably within this month. (2) Please mention Little Thumbs Up in your post and link back to Bake for Happy Kids, my little favourite DIY and Cheryl from Baking Taitai

Don't forget to submit your details to win this book, Eat the Week by Anna Barnett (RRP AUD$39.99). This giveaway is open to ALL and submission ends on 23rd July 2015.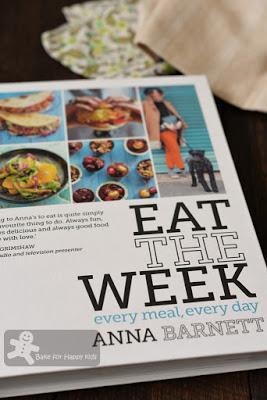 Eat the Week by Anna Barnett Book Giveaway