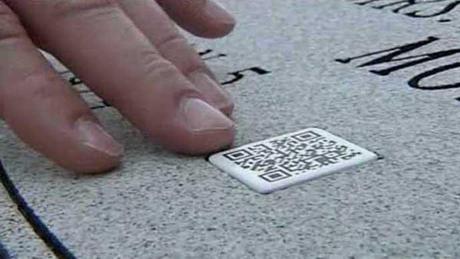 The QR code had a brief period of popularity before dying off as a major marketing tool. They're still used, of course, and probably will be for some time, so to call them dead is an overstatement.
However, one use of the QR code that might not have caught your attention is putting one on the granite headstone of your recently deceased loved ones.
What? Yes, you can now put a QR code on a headstone. The code will link to a personalised website containing things like an obituary, family heritage and history, comments by friends and family, photographs and even links to social media sites.
Once company doing this is Quiring Monuments in (where else?) the States. Here's what they say about their "Living Monuments" product:
Quiring Monuments has created a new type of headstone which connects families regardless of where they live. Our Living Headstones® memorial blends the timeless tradition of granite headstones with the newest technology available. We provide an interactive "living" memorial that is a legacy for future generations.
There's even a (rather sweet) video:
That issue aside, this is a good way to bring the 5,000 year old headstone into the 21st Century and there will be those who see it as a really useful way of preserving information for future generations of their family.