How to minimize wait times and move goods across the border.
Cross-border land traffic between the U.S. and Mexico is at an all-time high. Given the boom in automotive manufacturing in Mexico, recent fiscal and energy reforms and extensions for the oil and gas industry, that traffic and resulting issues show no sign of subsiding. As a result, wait times at the border are now a fact of daily life.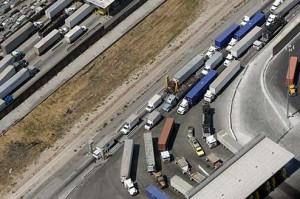 While the strip of land separating the two countries is no more than 20 miles long, the issues that bring border crossings to a halt are numerous, and those delays are having costly consequences.
A Bloomberg article cited that it costs the U.S. $116,000 for every minute goods are delayed, with estimated annual losses of up to $8 billion. The causes that stop commercial cargo in its tracks include everything from down customs systems to issues at border crossing points or sudden, severe weather conditions. On the U.S. side, any of nine federal agencies can cause delays (Food & Drug Administration, Department of Homeland Security, Department of Transportation.)
Whatever the cause, wait times don't just impact supply chains, they compromise shipment security, impact the environment (idling trucks) and drive up transportation costs. Shipping goods across the border? Know what to do to prevent border-crossing bottlenecks and figure out your Mexico logistics puzzle.
5 Tips for Smoother Border Crossings
Ensure that all suppliers know each other and have established communication channels as well as escalation procedures in place. Make sure that:

The importer of record has all licenses and permits current for all materials and products being imported/exported before shipping to the border.
Shipping processes and procedures are robust and load manifests are confirmed to prevent double handling, auditing and checking at the border.
Shipping and transportation companies have processes to ensure that load integrity isn't compromised and in-transit issues are quickly reported, recorded and communicated
All stakeholders communicate and have access to load custody information.

Insist that freight forwarders, distribution center and cross dock stakeholders synchronize border crossings in a timely and efficient manner. Make sure that:

Domestic carriers notify you when they depart and provide an estimated time of arrival at the border. Have processes in place to report delays, setbacks and mechanical failures to all involved parties.
One stakeholder coordinates the border crossing with freight forwarders, customs brokers, shippers, importers of record, and border crossing/over-the-road carriers.
Freight forwarders and customs brokers set appointments for incoming loads based on the estimated time of arrival to ensure the load is processed as soon as it arrives.
U.S. and Mexican over-the-road carriers and border crossing carriers set up trailer interchanges to ensure a proper chain of custody for both trailers and loads.
Drivers and warehouse personnel cleared with proper background checks and random drug tests, and that have no criminal records.
Personnel familiar with U.S. Customs CTPAT requirements and Department of Transportation regulations are waiting at the border, ready to inspect trailers and make sure tires, lights, permits and licenses are in good working order.
Repair crews can change tires, replace light bulbs or repair at a moment's notice.

Line up tools and resources to facilitate cross-border activities. Make sure that:

All stakeholders have GPS, cell phones, and two-way radios to  report potential issues or delays and response with established countermeasures.
You have a "Plan B", whether it's alternate customs brokers, border crossing carriers, or border crossing points.
Email accounts, servers, website and printers are available for exchanging and printing critical load information.
Any required equipment is on hand when shipments require it (e.g. hazmat, fresh produce, temperature-controlled products, pest control or FDA clearance for wood materials). The entire northbound and southbound process is mapped and you've planned for contingencies at every stage.

Have security measures in place. Theft, smuggling, violence, drugs, money, guns and ammunition remain issues for northbound and southbound border crossings. Be sure to:

Thoroughly inspect both trucks and trailers.
Set up K-9 service inspections for northbound border crossings.
Schedule CTPAT 17-point inspections and bar unplanned stops or route deviations.
Make sure trucks have enough fuel for a round trip before leaving the carrier's yard
Provide random escorts and closely monitor lead times to the border crossing and once trucks are across the border (both ways)
Communicate with dispatchers as drivers approach/pass route milestones
Pre-arrange alternate routes for crashes, road closures or other contingencies
Create a list of contacts to escalate and quickly resolve contingencies like mechanical breakdowns, customs paperwork and D.O.T. issues

Partner with U.S. and Mexico government agencies and trade organizations. Make sure:

You, a company representative or your border service suppliers know every Port Director and Customs, Immigration, FDA, and Department of Transportation official at the border ports where you do business.
Set up processes to enable stakeholders to resolve issues with government entities
Join your local Chamber of Commerce or trade organization (e.g. the Laredo Development Foundation, Border Trade Alliance) to cultivate connections with federal and local government agencies that know the latest news, laws, and trade trends and requirements and can alert you to potential issues.
Following these five tips will help minimize delays at the border and keep your supply chain flowing smoothly and securely.
Miguel Perez, Director of International Customer Logistics, Ryder System, Inc. Miguel has more than 20 years of supply chain, international negotiations and foreign trade experience. Miguel collaborates with customer's different functional areas on both sides of the border to develop solutions for efficient supply chains across a variety of industry segments.