As a result of advancements in digital projection technology projectors have become much cheaper to buy for consumers and have now become not a rarity in households, with that being said projectors for gaming is now an option but should gamers be interested?
Well let's start with the simple fact that for the price of an LCD screen you could have an incredible home theatre projector for your gaming needs! What else? Well the newest projectors that are being released have stunning 1080p picture quality which will ensure you get true gaming entertainment. Alongside this projectors focus a lot on refresh rate which essentially means the projectors ability to process video, so if you're able to get a projector with a higher refresh rate it means more seamless looking images, which is great for gaming.
Read More :- Laptop Docks: The Future of Gaming Laptops?
What's more by choosing to go with a projector instead of an LCD screen you're able to look more into aspects such as contrast ratio, why is that important?
1. Well by getting a projector with a high contrast ratio it will mean you'll see the darker more shadowy scenes with greater clarity and give you a brighter looking image, which will surely improve your overall gaming experience immensely.
2. However even though all this info sounds great picking the right gaming projector isn't always easy so I'm going to give you a few brands and options to check out.
Optoma GT1080 1080p 3D Gaming Projector
Let's start with currently one of the best gaming projectors on the market in my opinion the Optoma GT1080 1080p 3D short throw projector.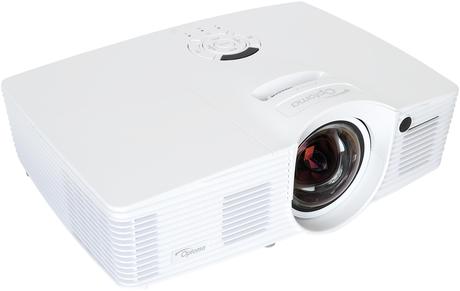 1. It has display true 3D imagery from almost any 3D source like 3D Blu-ray players and the newest gen gaming consoles.
2. Going on to spec and what the Optoma GT1080 is able to deliver, it can provide a supersized 100 inch image positioned just over a metre from the screen and has a 144 Hz rapid refresh rate, meaning ultra-smooth images perfect for home entertainment and gaming.
3. What's more connectivity isn't a problem as the projector is able to connect to your smart phone or tablet, which enables you to stream any video or photo from your personal library.
4. Alongside this the projector comes with 2 HDMI ports and a built in 10 watt speaker that provides outstanding sound quality.
Features
* Screen Size Range: 111-inches from 4 feet; 166-inches from 6 feet
* 2800 ANSI Lumens
* Contrast Ratio: 25,000:1; Keystone Correction: Yes, Lens Shift: No
* 1-Year Limited Parts and Labor, 90-Days on Lamp
* 2 x HDMI (1.4a 3D support) + MHL v1.2, Audio Out 3.5mm, 12V trigger, 3D-Sync, USB service
Optoma GT1080 Full HD Gaming Projector Product Video
Epson EH-TW5100 Full HD Gaming Projector
If you feel after reading about the GT1080 that it isn't for you than an exceptional alternative is the Epson EH-TW5100 Full HD Gaming Projector, why?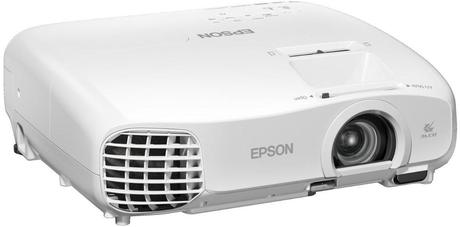 1. Well the Epson delivers bright vivid colours.
2. High definition 2D and 3D projections without picture lag, and a long lasting lamp all in a slim lightweight design.
3. This 1080p HD projector assists you to experience video games on a larger much brighter display, and delivers a 13,000:1 contrast ratio with 1,800 lumens that is enhanced by Epson's 3LCD technology for high definition images.
4. However a feature that really stands out for me is the switching to fast mode, which enables you to view fast-paced football games or online multiplayer video games more smoothly with no lag, something gamers will appreciate hearing.
Features
* Epson 3LCD technology for bright, accurate colours
* 1920 x 1080 resolution (1080p Full HD)
* Impressive image with 1,800 lumens Colour Light Output and 13,000:1 contrast ratio
* Dual HDMI inputs, plus MHL support for smartphones and 2W built-in speaker
* No lag time - switch to 'fast mode' for gaming
If you find neither the GT1080 nor EH-TW5100 are for you then my final gaming projector could be the one that appeals to you, simply because it can image project up to 200" in the comfort of your own home.
Conclusion
The gaming projector in question is called the Benq W1070 1080p 3D Full HD Video Projector, and its delivers crystal clear images due to it having a 10,000:1 contrast ratio and a 2000 lumen brightness, which is precisely what you need for next gen gaming.
What's more the Benq is designed with built in plug and play speakers and comes with a feature called SmartEco technology, which saves up to 70% of the lamps power consumption through dynamic power saving features and using as little light as necessary.
My Opinion
But what I would say is really cool about the Benq gaming projector is that it has triple flash technology, which essentially improves 3D viewing perception of movies, and triples frame rate from 48 Hz to 144 Hz to smoother viewing and gaming.
Check out Box.co.uk when you're looking to purchase any gaming equipment as they have an extensive range of projectors, gaming PC's, laptops, GPU cards, gaming peripherals and much more all at competitive prices.
Check your Website Traffic & Domain Ranking
Did you like this article?
1. Please share it with your network, we'd really appreciate it!
2. Would you like to write for Computer Geek Blog?
3. Keep subscribe us and follow us on Facebook and twitter for more tips & ideas about new technology.

Savita Singh is the author of computergeekblog, She has a superlative knowledge of Graphic and Web designing. She is a part time blogger who loves to write about latest technology, social media and web design. Her blog focuses on creative things of designing and tech, providing professional opinions on designing products, performances and a variety of business.