These are three headline stories from this morning's Drudge Report:
100-year-old man kills wife with ax
Man commits suicide after losing free buffet-for-life
Celebrity dermatologist commits suicide, devastated over being mocked on Tina Fey Netflix series
Exhibit #1
MyFoxNY reports, April 7, 2015, that a 100-year-old man apparently killed his 88-year-old wife with an ax as she slept in their Elmwood Park home in northern New Jersey, then killed himself in the bathroom with a knife.
Bergen County Prosecutor John Molinelli says there was a "history of domestic issues" between Michael Juskin and his wife, Rosalia, but a motive for the murder-suicide remains under investigation.
Police officers found the couple in their Spruce Street home after a relative – who was not in the home – called authorities. The deaths were made public Monday.
Exhibit #2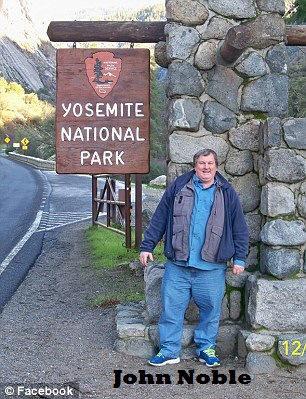 Henry Brean reports for the Las Vegas Review- Journal, April 6, 2015, that 53-year-old John Noble shot himself in the head at an M Resort buffet in Henderson, NV, at about 4:50 p.m. on Easter Sunday.
Henderson firefighters were already at the resort's parking garage extinguishing a burning vehicle police now say belonged to Noble.
Many witnessed Noble's death, and Henderson police said two people were hurt attempting to flee the area after the shot rang out. One person was transported to a local hospital with minor injuries from a fall; another person was checked out by paramedics at the scene.
The day before the Las Vegas man committed suicide, he had filled a box with his complaints against the resort and its employees and mailed it to the Las Vegas Review-Journal. In his final, angry message to the world, delivered to the newspaper Monday morning, Noble blamed his suicide on depression that set in after the Henderson resort awarded him free meals at the buffet for life then banned him from the property in 2013 for harassing some of the women working there.
"Today, I end my life due to the M Resort Spa Casino and its employees," Noble wrote in one of two suicide notes he included with an obsessively detailed dossier on the people he blamed for destroying his life. The hand-bound stack of notes and documents stretches on for more than 270 pages and includes a table of contents, photographs and a two-hour DVD of Noble talking about his troubles.
The second-to-last page, titled "The Curse," spells out all the harm he wishes on those he believed wronged him. Included on the list are several women who worked at the buffet, on whom Noble had showered with gifts and unwanted attention after he won meals for life there in September 2010.
Noble had attacked the resort and its employees on social media, posting photos and personal information about them, including their home addresses, right up until his death.
Exhibit #3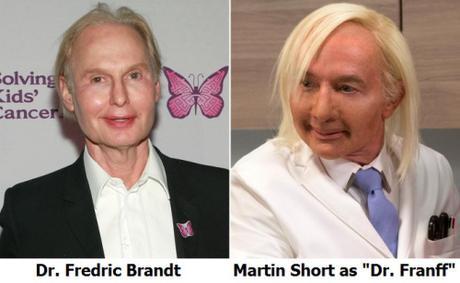 The Hollywood Reporter of April 6, 2015 reports that dermatologist to the stars Fredric Brandt was found dead in his Miami home on Easter Sunday morning after apparently hanging himself, according to a spokesperson for the Miami Police Department.
According to police, the 65-year-old, who had many celebrity patients including Madonna and former supermodel Stephanie Seymour, was pronounced dead on the scene just after 9 a.m.
According to Miami Herald journalist Lesley Abravanel, prior to his suicide, Brandt had been "devastated" by comparisons to the Martin Short character, Dr. Franff, on Tina Fey's new Netflix series Unbreakable Kimmy Schmidt.
But Brandt's publicist Jacquie Trachtenberg told the New York Post that although Unbreakable Kimmy Schmidt was "mean" and "bullying" and "made fun of" Brandt for "the way he looks," which "definitely deeply hurt him . . the show was not the reason for his depression, and it was not the reason he would take his own life." Trachtenberg said Brandt "was suffering from an illness" but would not go into details on the circumstances.
Born in Newark, New Jersey, Brandt received his medical degree from Drexel University Medical School and opened his first private dermatology practice in Miami in 1982. Brandt's expertise with Botox and other cosmetic dermatology practices garnered him an impressive roster of clients, and in 1998, Brandt opened his second private practice, in New York City. Brandt is also the author of two skin care books — 10 Minutes 10 Years: Your Definitive Guide to a Beautiful and Youthful Appearance and Age-Less: The Definitive Guide to Botox, Lasers, Peels and Other Solutions for Flawless Skin — and served as the host of "Ask Dr. Brandt," a SiriusXM radio show which featured beauty discussions with celebrity guests such as Gwyneth Paltrow and Kelly Ripa.
Bonus Exhibit #4:
Here's another example of craziness.
ABC23 reports, Feb. 14, 2015, that a man and a woman who had just met in a trolley and didn't even know each other's name, had sex on the ground in broad daylight in front of shoppers at a strip mall in Chula Vista, California.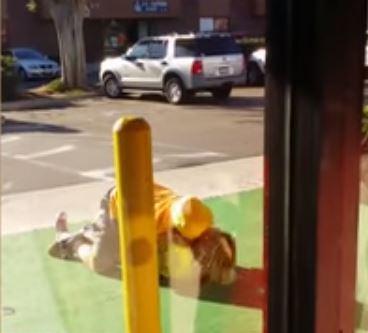 Chula Vista police said the couple had just met on the trolley, and decided to have sex in front of Christina's dress shop.
Percipient witness Christy Peterson said the man and woman seemed oblivious to the fact that it was 3:30 p.m. and they were surrounded by people in a shopping strip mall. The two kept their clothes on for the first 15 minutes then the man stripped off all his clothes while she kept her skirt on.
Peterson said, "It was unbelievable. They were rolling on the ground making out and getting sexual. Her legs were in the air and the guy was on top. We were so shocked our mouths were just opened."
Security never showed up, so Peterson called police. "We were just panicked and there were customers," she said. "We had a brand new trainee –her first day." The trainee was a 17-year-old girl whom they took to the back of the store. "A woman with her baby and 16-, 17-, 18-year-old girls here to shop for prom and got the shock of their life."
Police arrived, but the two strangers — who didn't even know each other's names — didn't flinch. Peterson said, "They were like cuddled up while police were giving them tickets."
The man was taken away in handcuffs and taken to jail. The woman was given a citation. Peterson heard police say the man wasn't even 21 and the woman was 37 years old.
~Éowyn