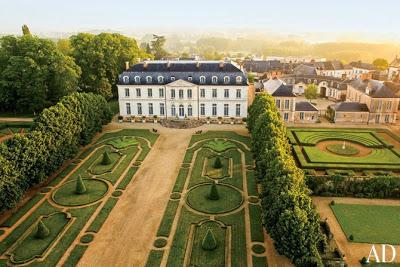 In my wildest fantasy, I imagine after a day of discovering treasures in the flea markets of Paris, I bring them home to my château in the Loire Valley.  Casually casting aside my écharpe, I unwrap my treasures while sipping scotch and thinking, "How lucky am I?"  Timothy Corrigan lives that fantasy!  I can neither confirm nor deny the scarf and scotch.  With vision, passion, his sophisticated sense of style, and an unerring eye towards grandeur, Timothy brought back to life Château du Grand Lucé.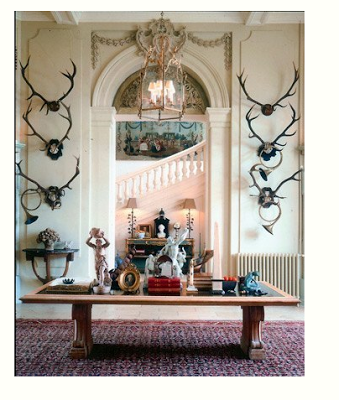 The château is considered "one of the most precious elements of architecture of the French Enlightenment."I cannot even fathom what it must take to bring such a historic and beautiful behemoth back to life.  When Timothy purchased it from the French government, there were no working bathrooms, modern electricity, or a kitchen in the main house.  The before and afters are quite stunning.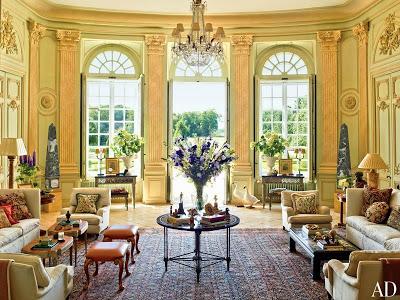 With heat guns, the crew peeled back the layers of paint, to discover it was once painted mostly Trinon gray, similar to dove gray.  Like peeling back the layers of time,400 years, bringing back the castle to its former glory would prove to be  an exercise in patience as well. Timothy had to have everything vetted thru the Les Architectes des Bâtiments, a watchdog group for preservation, and make a case for brightening up the place.  Nobody likes a drab château.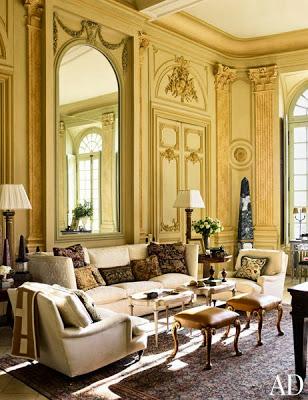 This 45,000 sq. ft. manor fit for a king was built between 1760 and 1764 and remained a private home until the mid 20th century.  It then served as a military hospital and a sanatorium for tuberculosis victims.
The walls in the salon were originally painted by Jean-Baptiste Pillement, an official painter to Marie Antoinette.  They show what the Western idea of life was like in China in the 18th century, dipicting green eyed Asian damsels playing with parrots while their menfolk fish from a stone basin. (AD).There are only 3 rooms in the entire world painted by Jean-Baptiste that have survived to this day and the restoration ensures this one will survive centuries more.
Magnifique!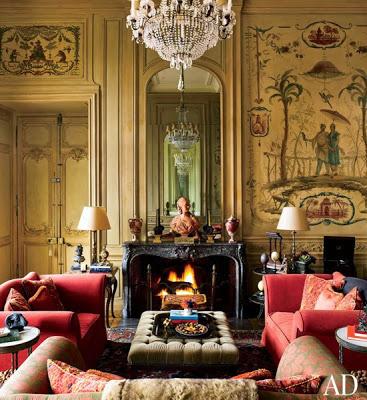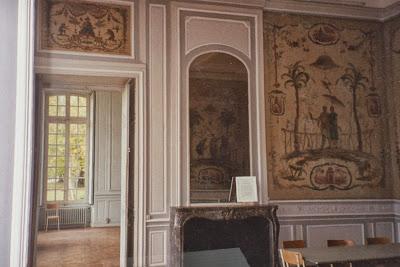 Corrigan only spends about 2 months a year there, but makes the most of his limited time.  Filling the home with friends and playing host to some pretty impressive gatherings, the likes of which I can only imagine.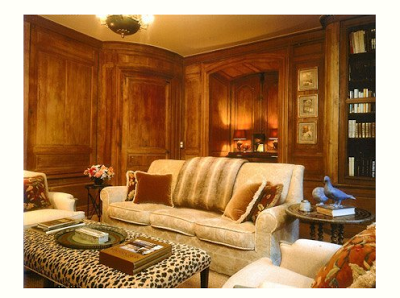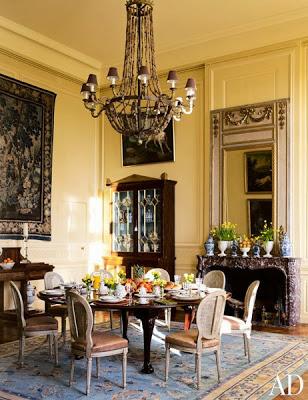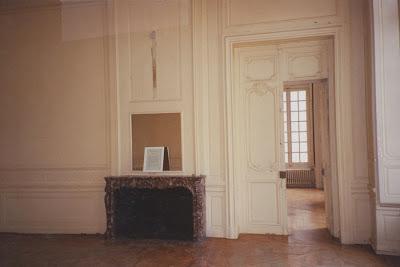 Timothy brought a sense of joie de vivre to the chateau.  "I didn't want the place to take itself too seriously."  Filled with a mix of casual furnishings and notable antiques, modern day conveniences, and a sense of playfulness ~ it exudes comfort and grandeur, warmth and importance, in equal measure.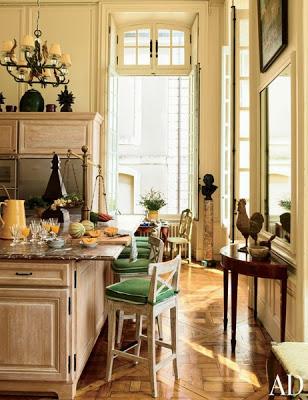 For the 14 or so guest rooms Corrigan  renovated, he took every other bedroom and made an en suite bath.  Each with a distinct personality and color story.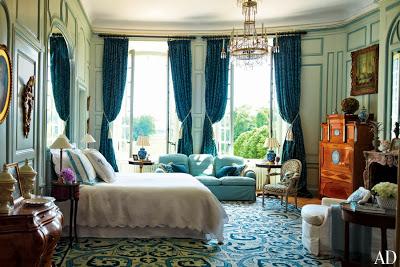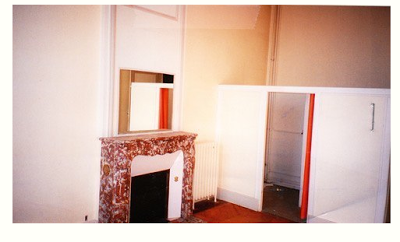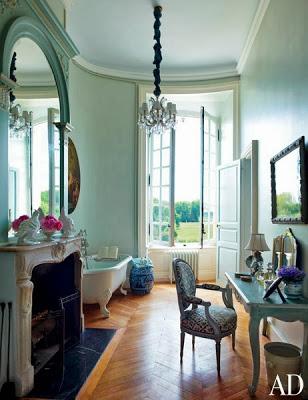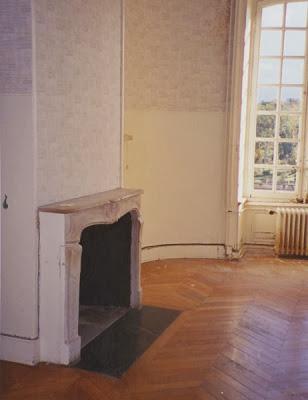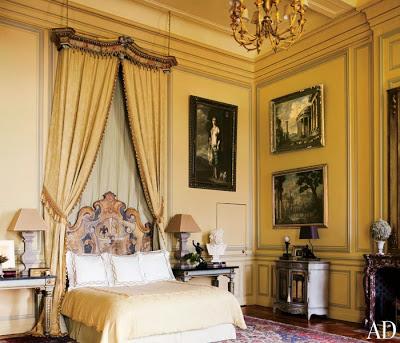 Timothy was no stranger to the grand renovation process, having restored 2 former, slightly less grand properties elsewhere in France.  I guess he needed a bigger challenge?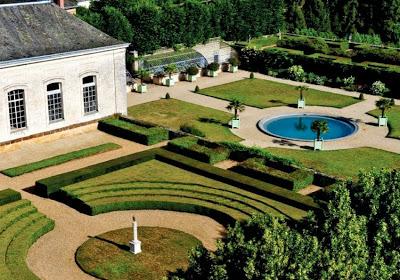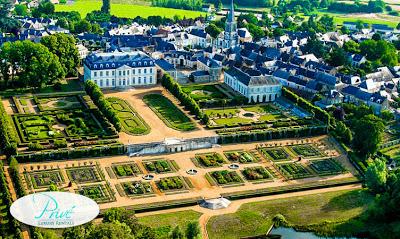 The gardens were restored by the government and are open to the public periodically.  The Chateau is open to small private groups for a week's stay.  Who's coming with me?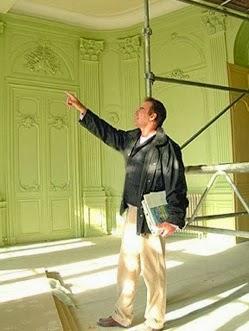 Read more about it in Chateau de Grand Lucé, the book.  Idle hours away learning of its rich history chronicling the renovation process, and learn how Timothy lives in a historic house in a very modern way. 
Ph; Eric Piasecki via AD, Chateau du Grand Lucé.com