Architecture in Argentina is made up of a variety of styles and designs which actually paints a portrait of Argentina's history and culture. The overall style of a neighborhood can tell you a lot about when it was built and the people who built it. We can divide styles of the buildings of the neighborhoods of Buenos Aires in to three: neoclassical, art nouveau and art deco.
NEOCLASSICAL
Neoclassical architecture is one of the most recognizable styles in Buenos Aires. Neoclassical buildings dominated the world's major cities from the 1860s through the 1920s. You can see it almost everywhere in Buenos Aires, on the city's landmark public buildings, schools, hospitals and banks.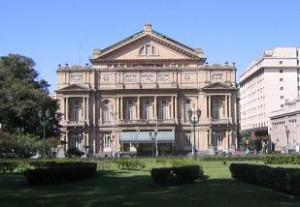 Typical characteristic of Neoclassical architecture would be; columns, domes, arched windows and doors, triangular facades, and layouts that emphasize hierarchies of space. Famous examples of this type of architecture in Buenos Aires include 
the National Congress
 and its green dome, 
the Governor's Palace
, the 
Teatro Colon
, and the 
Galerias Pacifico
.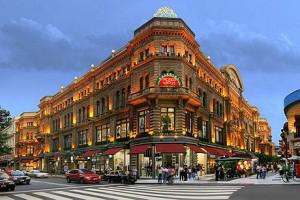 Neighborhood versions of neoclassical architecture can be seen in Recoleta and Microcentro. These neighborhoods are often a mix of both Italian classical styles and French "Academic" styles. You'll find iconic French windows, arched and pedimented doors, and buildings with grand staircases and entrances, which enriches the scenery of Buenos Aires.
ART NOUVEAU
Art nouveau is the style that defined the turn of 20
th
 century in major cities all over the world. This style is exemplified by curving natural lines and asymmetrical organization. Feminine figures, flowers, plants and animals dominate their facades. It emphasized art for the masses so the style permeated a range of buildings in the city.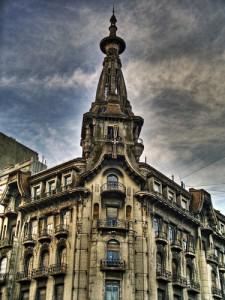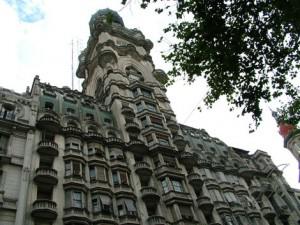 Famous examples of art nouveau architecture in Buenos Aires include the Palacio Barolo, a design inspired by the cosmology of Dante's "Divine Comedy," and the Molino Confectionary, the storied coffeehouse next to the Argentine National Congress. There's lots of art nouveau neighborhood architecture in Balvanera. The neighborhood is also where art nouveau master Virginio Colombo lived and worked. You'll find two of his "rent houses" facing each other on Hipolito Yrigoyen Street and farther down a beautiful shoe factory that's now a parking garage as one of the best examples of art nouveau architecture in Buenos Aires.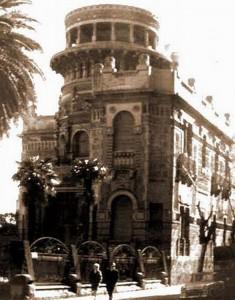 ART DECO
Another important architecture style often seen in Buenos Aires is Art deco, which debuted in France in 1925 and became all the rage beginning in the Depression era and spanning through 1940. Prominent examples of art deco architecture in Buenos Aires include the
Kavanagh Building
, South America's tallest skyscraper at the time it was built, and the
Abasto Market
, the old immigrant fruit and vegetable market (now a shopping mall) in Carlos Gardel's old neighborhood. Art deco is mixed throughout most parts of Buenos Aires. All you have to do is just look for those geometric shapes and hard lines in the building facades.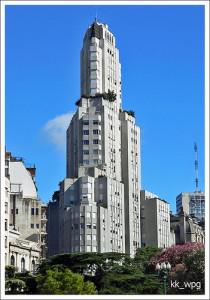 Of course there are many more different styles, buildings and neighborhoods in this beautiful city, but this summary provides the basics that you will find on an average block in Buenos Aires. So now you can put on your trekking shoes and go for a walk to see some of those marvelous architecture pieces!