37 Flares
37 Flares
×
New to little Indiana? Subscribe for free to my RSS feed. Thanks for stopping by!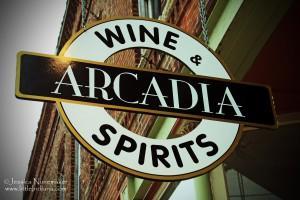 Arcadia, Indiana: Wine and Spirits
You are probably surprised to see Wine and Spirits in Arcadia, Indiana on little Indiana.
But this isn't your ordinary liquor shop. In fact, it's not anywhere in the same league!
Arcadia, Indiana: Wine and Spirits
We only stepped inside this Hamilton County shop because, from the outside, it looked like a neat building. So, we browsed around the rest of the town while waiting until it opened.
When it did? We were so surprised by what we found! I don't know about you, but I don't usually call these shops "classy." Until Wine and Spirits in Arcadia, that is!
Exposed brick walls, warm hardwood floors, and elegant tin ceilings–it's a bright and airy place. In fact, during the renovation the owners discovered the tin ceiling. The original ice cooler is still in use today.
Indiana Wine and Spirits Shop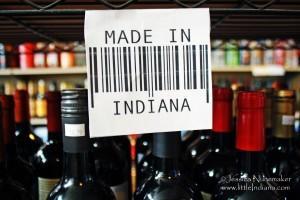 Arcadia, Indiana: Wine and Spirits
This isn't a place where you'll find well-known but sub-par liquors. No siree! Instead, you'll find a selection of Indiana products as well as some really unique offerings.
The owners are not the type to shop based on labels. It has to taste good to make it in to this lovely building.
There's plenty that you will recognize (and things that have locally been requested), but Wine and Spirits hopes to encourage others to step outside of the (wine) box and try something new, too.
With Indiana wines and spirits making an appearance at this Hamilton County shop too, there's plenty of reasons to give it a go!
Go There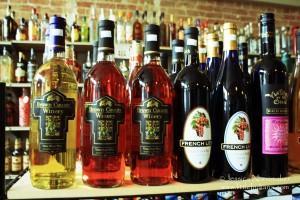 Arcadia, Indiana: Wine and Spirits
Did I not yet mention the spookier side of this Indiana wine and spirits shop, stress the spirits?
You'll want to head over to hear the story for yourself! If you dare. Need to get in the Halloween spirit? Head to the Hoosier Horror Blog Hop for heaps more haunting fun!
Find pictures in Indiana on my Flickr photostream or on the new little Indiana Tumblr blog.
Just don't forget to tell 'em that  little Indiana sent you!
Wine and Spirits
121 W Main Street
Arcadia, Indiana 46030
317.606.8055

View Larger Map
Don't miss a moment. Subscribe to little Indiana and receive instant updates to stay on top of everything "little."
little Indiana: Where to Stay, Play, and Eat in Small Towns in Indiana. Discovering Indiana's best small towns! Now get little Indiana on your Kindle.
Targeted. Relevant. Affordable! little Indiana advertising.