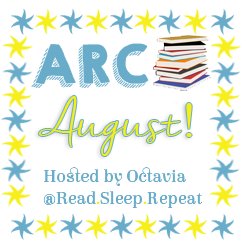 First off, wow, I've been gone for a month. I really missed all of you & I'm so sorry for the lack of posts. I've just been really busy especially since I'm part of my friend's court for her 18th birthday (debut). We've been hanging out a lot and practicing our dances. Anyways…so I joined ARC August last year and it was lots of fun! I'm so excited that Octavia decided to host another ARC August. I'm so up for the challenge! Here is what I'll try to read during the challenge:
1. Zac and Mia by A.J. Betts
2. Amity by Micol Ostow
3. Feral by Holly Schindler
4. The Jewel by Amy Ewing
5. Don't Touch by Rachel M. Wilson
6. A New Darkness by Joseph Delaney
7. Anatomy of a Misfit by Andrea Portes
8. The Dolls by Kiki Sullivan
9. Wickedpedia by Chris Van Etten
10. Of Monsters and Madness by Jessica Verday
Any of you joining ARC August!? If not, you should! Let me know in the comments what you'll be reading!