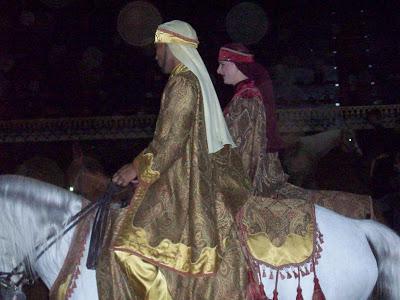 Arabian Nights
has been a unique dinner theater show in Orlando for many years.  In fact, it's been on our family's 'to-do list' for quite some time.
Recently Arabian Knights changed their story line and released a new performance, The Royal Celebration.  In conjunction with this change, I was offered an opportunity to come and check out the show.
I GLEEFULLY ACCEPTED!
Accompanied by my 9 year old, horse loving daughter, we sat down for a lunch time viewing.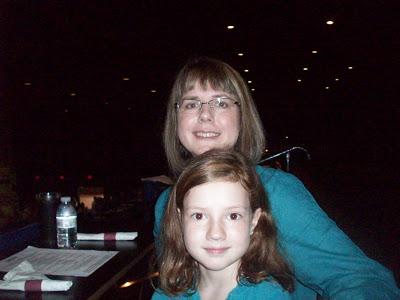 In the new story, Princess Amirha is set to marry Prince Raswan.  This marriage will result in the uniting of their two respective Arabian tribes.  Woven into this main plot, the audience is also treated to spectacular horsemanship, acrobatics and pageantry highlighting styles from Arabia, England, Latin America, Native America, The Old West and Gypsy-circus.
Princess Amirha
The technical aspect of horse and rider is simply breath-taking and awe inspiring!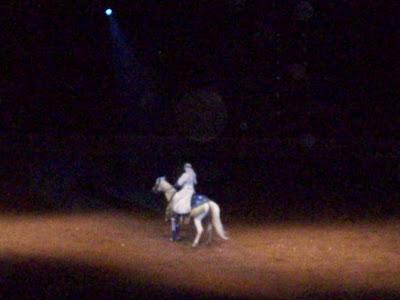 Prince Raswan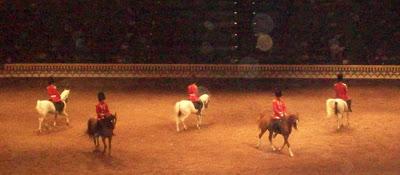 English 'Guardsman'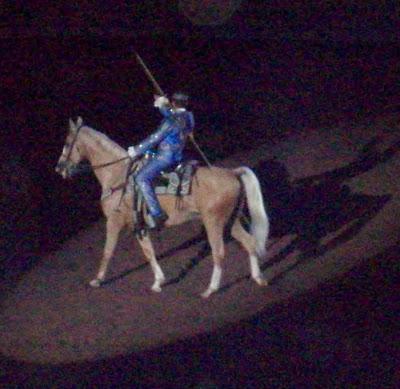 Riding Latino style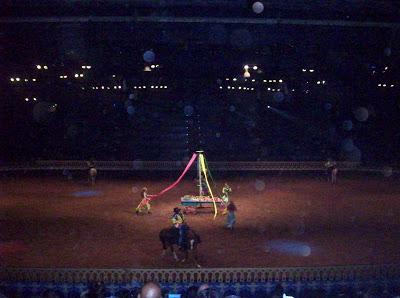 Wow!  More action than your average circus!
Though it was interesting to see the different styles represented, the transitions between these scenes was a bit rough and disjointed.
Returning to the main plot, the audience discovers that Prince Raswan's servant is the evil, most wicked, wretched sorcerer of the land.  He challenges the Prince to a chariot race for the Princess' hand.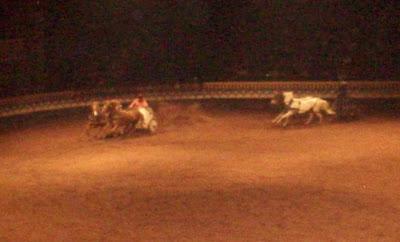 The Chariot Race for the Princess' hand
At this point, which is near the end of the show, things take a very dark turn resulting in the Princess consuming a poisoned potion and dying.
With the Princess laid out upon a table, the audience is encourage to "stretch out their hands to help levitate the Princess" and are also told "only they (the audience) can unlock the Spirits of the Desert."
My daughter and I literally felt our hearts go "THUD"!!!
We understood going into this production that it was not a Christian theme.  However, we were not prepared for the depth of darkness that was presented.
It is my hope that Arabian Nights would rethink the last portion of their show, removing this dark element to make it more family friendly.  Changing this part of the story line would not detract from the excitement of the show in the least!
Disclaimer:
I received two admissions to Arabian Nights free of charge in exchange for an honest review.
This post written and property of Homeschool Circus and can be found at: www.upatdawnreadytowork.com.