Once again my daily internet surfing has led me to another great travel find:
Aqua Hotels & Resorts
.
This boutique chain of hotels span across five of the Hawaiian islands, offering travelers a unique getaway in the tropical paradise. The chain has upscale, budget-friendly and remote properties, so no matter what people are looking for, they are sure to find a hotel that suits their needs.
Me, for instance, am a young travler on a tight budget, so I decided to check out Aqua's Lite Line, which features five options at a lower price. Pretty much all of them are located somewhere in Waikiki, so if you are looking for something less touristy, you will want to check out one of the chains more expensive hotels.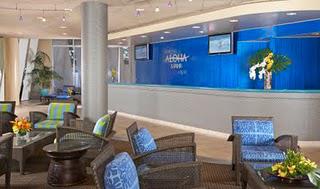 Aloha Surf & Spa. Credit: Aqua Resorts website
The Aqua Aloha Surf & Spa sits in a quiet neighborhood, but is still only five minutes from the excitement of the beach and Kuhio Avenue. This place is a surfer's paradise, with the lounge decked out with large screen televisions broadcasting surf classics and edgy decor that speaks to the free spirited traveler. Each room has internet, a flat screen TV, microwave, mini fridge and coffee maker. If you are lucky enough to snag a view room, you will get a lovely picture of the Ala Wai Golf Course with teh Koolau Mountain range in the background. Budget-conscious guests will also enjoy the complimentary Continental breakfast that includes fresh fruit, pastries and beverages. There is also a complimentary reception every Tuesday from 5-6 featuring the hotel's signature drink "The Wipeout."
The Aloha Surf & Spa was the one that most caught my attention, but the company has a few other budget hotels worth checking out: The Aqua Waikiki Pearl recently underwent a renovation to update its rooms and general layout; Maile Sky Court is a high-rise hotel at the western end of Waikiki; Park Shore Waikiki offers some of the best views of the beach and surrounding city; and Waikiki Wave Hotel &Resort has been named a top best-value hotel by Budget Travel magazine.
I didn't bother looking at Aqua's more upscale resorts--partly because I did not want to torture myself by looking at pictures of a place I could never afford. However, if you are lucky enough to have the funds to stay at a more expensive hotel, I suggest checking out their luxury boutiques, especially the ones that are a little further from the beach, nestled in the more secluded confines of the Hawaiian islands.