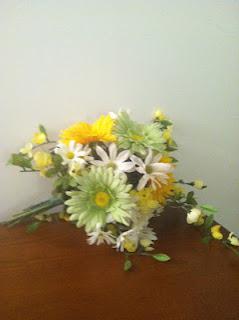 First thing that comes to mind when I think about April weddings is daisy's and the color yellow!  I'm not entirely certain why I always associate these two with spring - could be because both the color yellow and daisy's are very happy looking.  The perfect combination for a spring wedding - thus making our theme this month Simply Happy!!
In the language of flowers, daisy's represent purity, innocence and a new beginning. This flower is just screaming wedding and marriage!  The age old saying "fresh as a daisy" can be seen as a bride's desire to express the youthful and joyful side of love. 
When selecting the daisy as the main flower, the rest of the wedding attire and decor should remain simple to carry the symbolism throughout. Definitely follow the saying "less is more"!  These lovely flowers are also very friendly on the budget and have been called the "new rose".  A wedding flower budget can be stretched much further by selecting daisy's and gerbera daisy's rather than roses and lily's - and the end result can be just as breath-taking!
Daisy's are also quite versatile and can be designed to be modern or old fashioned.  While I was shopping for flowers to make this month's bouquet, I came across a beautiful assortment of silk daisy's and spring flowers at JoAnn's.  I wasn't certain how I exactly wanted the bouquet to look, so I let the flowers do the talking and let it take shape.  If I had thought of these colors 10 years ago - I definitely would have made this my wedding theme!!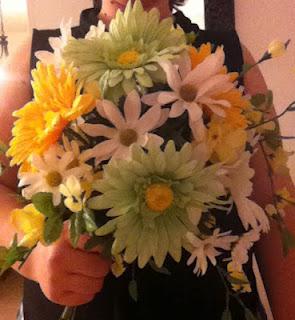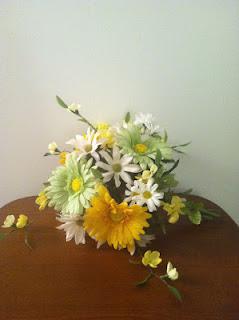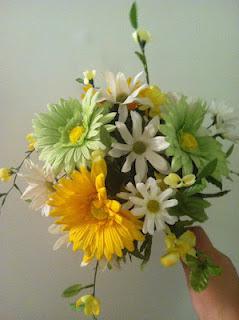 When choosing bridesmaid dresses, I found the perfect solution at Catan Fashions! Both of these dresses would look fabulous with daisy's, especially the color combination. Simple, happy and elegant at the same time.  :)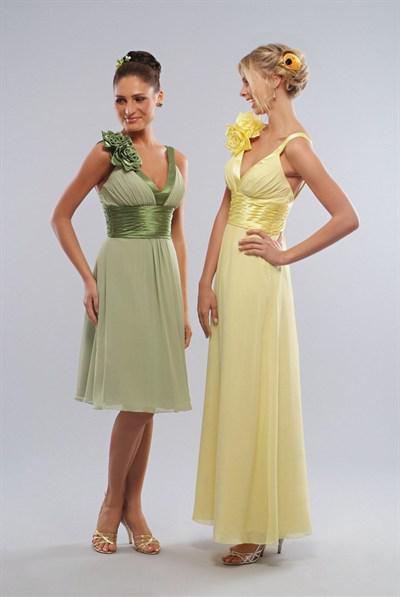 Enjoy your day and happy crafting!!