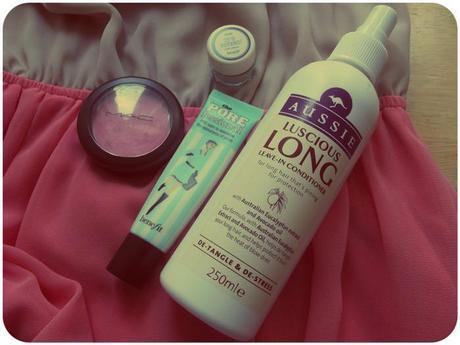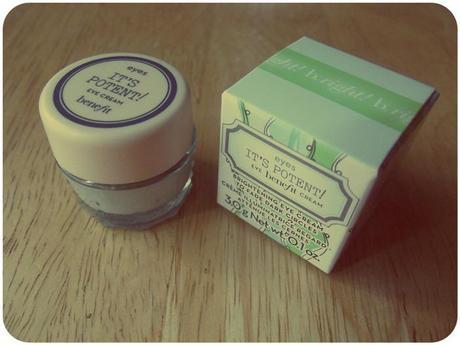 Mac Cremeblend Blush So Sweet, So Easy / Benefit It's Potent! eye cream / Benefit The POREfessional / Aussie Luscious Long leave-in conditioner / Miss Selfridge dress
Helloooo May! This month it is my lovely Nana's birthday –happy birthday Nana June- and in all honesty, it has come around all too quickly! Not because it's my Nana's birthday –obviouslayy- but because that means it is June next month, which means we are half way through 2012 almost, which means I am almost 22! Bloody hell, it will be Christmas before we know it. Anyway, my favourites for April have genuinely changed my life, maybe not the dress, but the rest, have changed my life. The dress can be seen in THIS POST third  row down, and unfortunately is the only picture I have of it. I wore it for my friend's birthday party and I felt so purrrdy. It's a beaut. The Benefit eye cream has actually made a difference in my under eye area which I am so impressed with – I always thought eye creams lied to be honest. I bought the Mac blush on loan day just so I could use my stippling brush and I love it! I wore it in this FOTD and it just looks so perfect with my skin tone. I have a review coming up of the primer, but let me say this: this stuff, is a true miracle sent to me from gawwdd*. The Aussie leave-in conditioner is actually my first ever Aussie product I've used; I could use the crappest shampoo and conditioner in the world, but if I use this after it could of been bloody Chanel shampoo for all I cared - Amazing stuff!
If you do anything this month, watch Hart of Dixie and listen to 212 –I've been a woman obsessed! *I keep thinking I'm a southern American woman, and everything I say in my head sounds like the people of Bluebell, Alabama! What's been your favourites this month?