It's hard to believe that it is already the end of April! Time has been flying!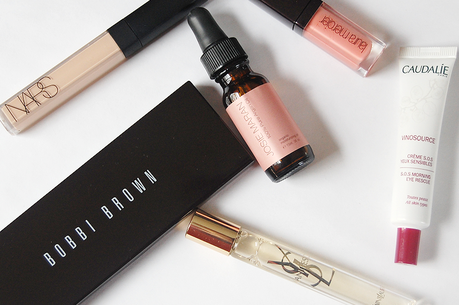 Josie Maran Argan OilI have been using this stuff religiously this entire month and I absolutely love it, as you can see from my review. My favorite thing about this stuff is that my skin soaks it up so quickly, I can quickly jump into bed without worrying if it will spread. And the glow that it gives me the next morning is so wonderful, my skin no longer looks dull and dry. I'm only hoping that as I switch up my skincare routine that this will still remain one of my favorites!
Bobbi Brown Rich Chocolate Eyeshadow PaletteI've been reaching for this palette much more than I originally thought I would. It features neutral shades, which are great for daytime but can be layered on to create a smokey look for going out at night. And its small enough that I can throw it my purse if I need to! You can see my full review here.
Laura Mercier LipglossNow that it is finally not freezing, my lips don't need the TLC that they so often crave in the winter. Which means I can easily reach for a lipgloss, ANY lipgloss for that matter! But this glossy pink has been my go-to this past month.
Yves Saint Laurent Manifesto RollerballFor the past couple months I have found myself reaching for the Viktor & Rolf Flowerbomb rollerball every single day. But now I am finally going back to my old favorite – the YSL rollerball that I absolutely love. There is something about this scent that reminds me of summer (probably because it was all I wore last summer) and I just love it!
Caudalie Eye CreamThis month has been an incredibly busy one for work and I'd be lying if I said I wasn't happy it was over. I have spent many countless hours working and it has been pretty obvious in my appearance. This stuff hasn't solved all my problems but I definitely think it's made a difference after having one of those long nights.
Nars Creamy ConcealerNow if there is one thing I need after a long night - it's this! Not only has this helped with my random skin problems (seriously, my skin has been acting up so bad this month) but its helped conceal the dark circles under my eyes perfectly. You can read the full review here.
What have been your go-to products this month?