The Red Sox concluded the month of April last night with a record of 11-11 with a laugher turned nailbiter, an 11-6 win over Oakland.
Not bad for a team that was 4-10 nine days ago.
David Ortiz continues raking, as he hit two more home runs and Darnell McDonald had three hits including his second home run, and fell just a triple short of the cycle.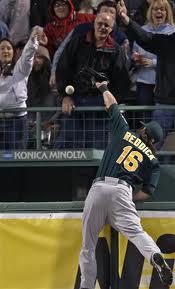 It was 11-1 Red Sox by the seventh inning, and then the A's rallied for five runs courtesy of two former Red Sox: Coco Crisp singled in two and Josh Reddick hit a three-run shot off Clay Buchholz. (Reddick's pictured falling into the bullpen trying to catch Papi's first blast.) All of a sudden it was 11-6, and Buchholz was out. Junichi Tazawa came in and promptly loaded the bases.
Flashbacks to the previous home game, anyone?
Vicente Padilla came in and struck out the one batter he faced to end the rally. Scott Atchison loaded the bases in the top of the 8th with no outs. He struck out the next hitter, and Franklin Morales came in and got a terrific DP started by Dustin Pedroia.
Oh brother.
Alfredo Aceves came in and allowed just a two-out double to wrap it up. I hate those games when you're up by 10 runs in the seventh and have to use your closer. (I'm sure Bobby Valentine was having flashbacks through that rally as well.)
No matter. It's a victory, and Felix Doubront takes on the A's tonight at Fenway.
The Red Sox also announced today that the rainout from April 22nd will be made up as part of a day/night doubleheader on July 7th at 12:35 PM. I'm glad to hear it will be made up in July rather than September, which is New York's last trip into Fenway.