It's hard to find delicious apricots in Massachusetts–usually I'm limited to whatever the grocery store has shipped in from California, and while  plenty large these are often mealy  and flavorless.  Apricots are notoriously poor travelers, and much like strawberries, flavor gets sacrificed for sturdiness–and the ability to travel cross-country.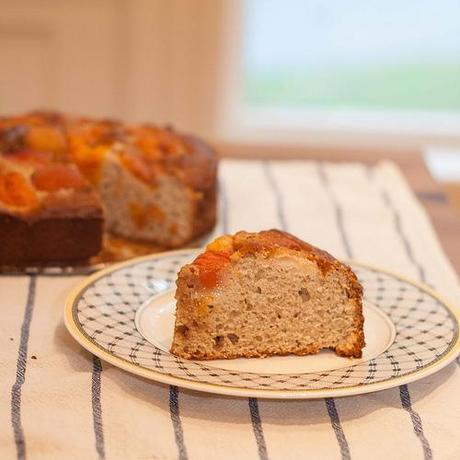 So I go a little crazy during those few short weeks when the Red Jacket Orchard apricots from upstate New York come in at the grocery store, and even crazier when the farmer's markets have apricots on display.  (It's a good year for fruit!).  So it was that I bought about seven pounds of apricots and carried them home on the commuter rail–the majority dedicated to an apricot-cardamom jam.  True to their delicate nature, a few still remained for eating fresh out of hand, but the rest were bruised from their commute–feeling, perhaps, much as we all do after a long day?  No way could these be wasted, so little surprise what comes next:  I found myself baking!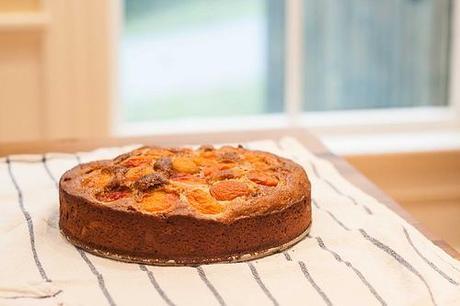 As you know, I love baking with ricotta–it adds a wonderful springiness as well as sturdiness to baked goods.  More prosaically, we were about to go on vacation and the expiry date on the tub was nigh.  There's plenty of cheesecake-apricot recipes on the web, but I had the urge to make one of those snacking cakes that can acceptably be eaten at breakfast.  I found this recipe on the blog Seasonal Desserts, and made a few tweaks of my own, adding a bit of whole grain flour and a splash of rose water.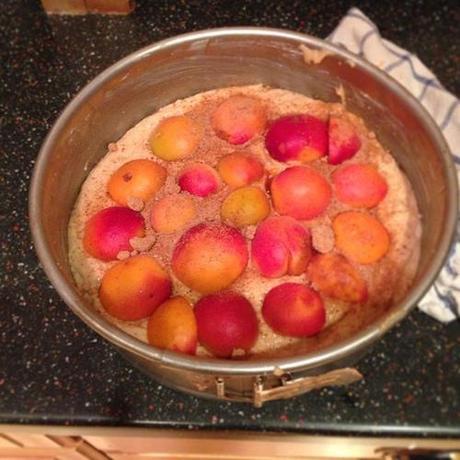 As you can see from my shoddily-lit instagram photo above, the cake looks rather flat and unsubstantial in batter form–be not dismayed, as you have ample proof it bakes up beautifully.  You can also see that no matter how unphotogenically you've arranged your apricot halves, the result is nonetheless stunning.  Don't you love it when that happens?
I've provided Maria Teresa's suggested amount of apricots (six to eight) but if you are using local fruits you might have a variety of sizes.  Just fit as many halves as you can over the surface, bake, and enjoy.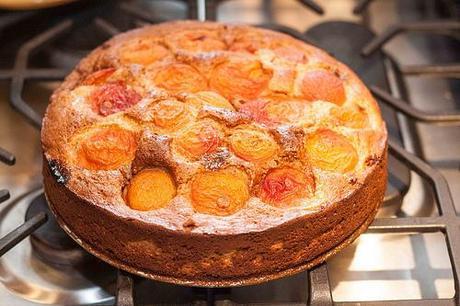 Apricot Rose Ricotta Cake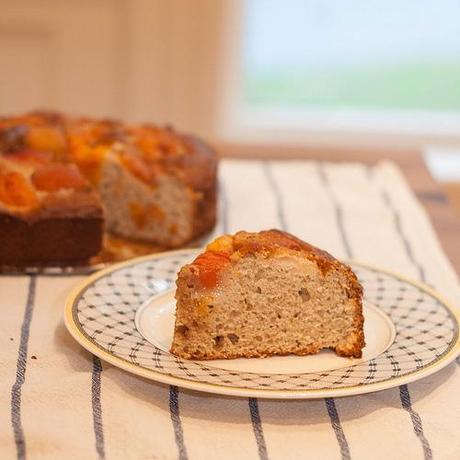 Print
Author:
Adapted from Maria Teresa's Kitchen
Ingredients
1½ cups spelt flour
½ cup all-purpose flour
3 teaspoons baking powder
1 teaspoon salt
1 cup sugar + 2 tablespoons, divided
zest of 2 lemons
4 large eggs, at room temperature
250 grams ricotta []
1 teaspoon rose water
6-8 apricots, washed, divided in half and stone removed
Instructions
Center a rack in the oven and preheat the oven to 350°F. Oil a 9-inch round cake or springform pan and place a piece of parchment paper in the bottom.
In a small bowl, stir together the flour, baking powder, and salt.
Place the eggs, zests and the sugar in the bowl of a mixer fitted with the whisk attachment.
Beat on medium-high speed until the mixture is pale and thick, about 3 minutes.
Set the mixer to its lowest speed and beat in the ricotta.
Add the sifted dry ingredients, beating only until they are incorporated.
Pour about the batter into the prepared pan. Place as many apricots as you can fit on top of the batter and sprinkle them with the extra sugar.
Bake the cake for 1¼ to 1½ hours, until a toothpick inserted into the center comes out clean. Remove from the oven and set on a cooling rack for 15 minutes.
Carefully remove the sides of the springform pan and let the cake cool for at least 30 minutes. Serve the cake warm or at room temperature with whipped cream or ice cream.
3.2.1682