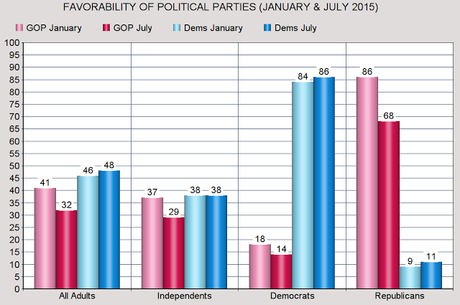 Donald Trump, and whether he really represents the Republican Party, seems to be the only news the major media want to report these days. But there is something else that should be worrying Republicans more than Donald Trump. It is the falling approval of their party by the general public in this country.
As the chart above shows, the favorability rating of the Republican Party has fallen by 9 points since the first of this year (from 41% in January to 32% in July). The fact that less than a third of Americans now view the GOP favorability could be devastating to that party in the next election. They need to do something to turn that around.
Also troubling is the fact that among Republicans there has been an 18 point drop in favorability for their own party (from 86% to 68%). That could easily mean that a significant chunk of the party might be willing to abandon the party in the next election -- either to support an Independent candidate (Trump?), or to go support a new teabagger-inspired party.
Why are they losing support? The chart below helps answer that question. While Americans are split over which party manages the government better (40% for GOP and 41% for Democrats), on some other things, the Republicans don't fare nearly so well. They have a 16 point deficit in being compared to Democrats on honesty and ethics (29% to 45%), a 22 point deficit on being concerned about people (31% to 53%), and are considered to be more extreme than Democrats by 17 points (52% to 35%).
Those are some huge gaps, and should be very troubling to the GOP leaders. It's not a good thing for voters to consider them to be dishonest & and unethical, too extreme in their views, and less caring of people than the Democrats.
While the favorability for the Republican Party has dropped, it has not dropped for Democrats (but has remained steady). The poll shows a slight increase in favorability for Democrats, but the increase is within the survey's margin of error.
These charts were made from a newly-released survey by the Pew Research Center. It was done between July 14th and 20th of a random national sample of 2,002 adults, and has a margin of error of 2.5 points.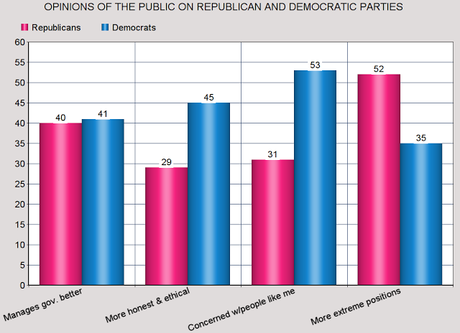 ----------------------------------------------------------------
On a slightly different topic, this same poll asked some questions about President Obama. The part I found most interesting was the job approval for the president by generation. Note that the older the person, the less likely they are to approve of the job the president is doing.
I can't help but think a large part of this is the race of the president. We know that each generation, from the Silent generation to Baby Boomers to Generation X to Millennials, has been less racist that the generation that proceeded it. These job approval ratings seem to mimic that fact.