Appreciation can make a day, even change a life. Your willingness to put it into words is all that is necessary. — Margaret Cousins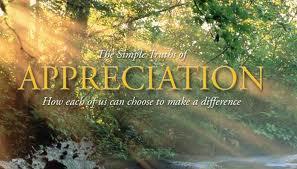 There are so many things in life that we simply take for granted, particularly the people that we live with, work with, and encounter in the course of the day.  It is so common to grow used to things being the way they are that we don't pause long enough during the day to take notice of them let alone to express our appreciation for them through words or acts of appreciation.
It is interesting that this might be so since we all know how wonderful it is when someone takes notice of something that we took the time to attend to at work, or a special something we do for our spouse, or family member.  Not that this is why we do things for others in the first place, but when anyone sits up and takes notice of us, and expresses their appreciation to us, it makes us want to go out of our way to do even more things for them.
Knowing how appreciation helps to spur us on to do better, it is a wonder why we don't show our appreciation more generously to those who we live and work with.  Of course if you have been raised in an environment where little or no appreciation has been given for what you have done, then it can seem normal to you to treat others the very same way that you have been treated. In the Bible it says to "do unto others as you would have them do unto you", but this often is miss quoted or miss applied as "do unto others as they have done unto you".
Have you ever worked really hard to accomplish something at work or at home that you felt real satisfied with and that brought about real progress or improvement, but then it only gets a passing glance?  No appreciation for all the hard work, the long hours, the concentrated effort that went into it, and in the end no one acknowledged you for it?  How did that make you feel?  Did it make you want to continue to do it again or rather did it make you feel like "what's the use"?" Most likely you felt like saving yourself the effort the next time around.
Now try this…stop and take a moment to thank your wife for having cooked a wonderful meal and let her know how much you appreciate the way she prepared the meal. Tell you husband how much it means to you when he takes the trash out with out you having to remind him.  Thank your son or daughter for the extra chores that they do around the house and make sure to reward them in some significant way for their good job! Express today to your co-worker your appreciation for all the details that they tend to throughout the day!  Do this regularly for a few months and see if you don't notice a major difference in how they work, respond to you and reciprocate your attitude!
By applying this principal and putting it into practice, you are sure to notice a tremendous change for the better!  Appreciation is powerful, appreciation is yet another way of expressing love and it is love, not money that makes the world go around!  How has it changed your life when you have been appreciated? What was it like to go largely unnoticed? Your comments are appreciated!  (Yes it truly will be!)