TAKEAWAY: Apple obviously wants to create good reading habits on its extremely popular tablet, the iPad, and it wants to do it through textbooks, allowing a generation that is already quite familiar with that platform, to study and to learn from it, via textbooks.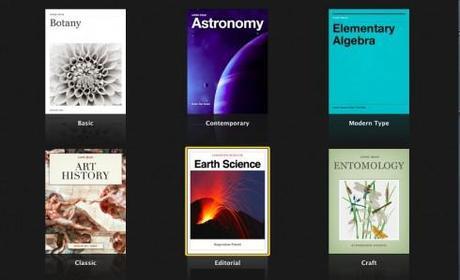 Last week Apple made a three-part announcement introducing a new version of iBooks that enables great-looking interactive textbooks; a new Mac app called iBooks Author that promises to make it much easier to organize and publish ebooks; and a new iTunes U app that makes it easier for universities and schools to create and distribute an entire course's worth of material, from lecture videos to readings to assignments.
This is all exciting news, and another reason for someone in my age group to wonder if he were born too early. Indeed, seeing video demos of how textbooks come alive, I imagine that learning is going to become all that much more exciting, not to mention school backpacks getting definitely lighter to carry.
I'm excited by the potential of these Multi-Touch Textbooks and can't wait to explore them in my own work.
I also see that a generation of students who read and interacted with books on their iPads is more likely to relate to the platform for all future information consumption, something for media publishers to keep in mind.
For the moment, however, I applaud the idea presented in a Nieman Lab piece by Joshua Benton, in which he anticipates how newspaper publishers may take advantage of what Apple offers for book publishing:
What are the ebooks already lurking inside the heart of the newsroom, just waiting to be unlocked? Is it a compilation of all a newspaper's restaurant reviews? A popular columnist's collected works? A compendium of all the paper's stories about the local high school football team, player profiles and game stories, full of big art? Several years' worth of gardening columns, filtered to focus on what grows well in the local soil? A local band book/database that includes MP3 samples from each? An expanded version of the 100 Biggest Local Businesses section the biz desk puts out once a year? A detailed guide to the local public schools, aimed at people new to area?
Much to think about here.
I am thinking that, as I have downloaded the iBooks Author software this weekend, my practice "book" may be a compilation of The Best of TheMarioBlog, and I know it will be fun to revisit 900+ entries and try to do my own tutorials with texts and images already published here.
Here are some related links of interest:
iBooks Textbooks for iPad: There's nothing textbook about them.
http://www.apple.com/education/ibooks-textbooks/

The day the bookshelf shook: Four lessons for news orgs from today's Apple iBooks announcements http://www.niemanlab.org/2012/01/the-day-the-bookshelf-shook-four-lessons-for-news-orgs-from-todays-apple-ibooks-announcements/
Joe Zeff: iBooks 2, and What Happens Next
http://joezeffdesign.com/ibooks-2-and-what-happens-next/
It doesn't take Cupertino to make textbooks interactive
http://www.niemanlab.org/2012/01/matthew-battles-it-doesnt-take-cupertino-to-make-textbooks-interactive/
Sorry, iBooks, paper books still win on specs
http://www.theverge.com/2012/1/20/2720158/sorry-ibooks-paper-books-still-win-on-specs
Reed Reibstein's tweets on iBooks Author typography
http://bit.ly/y05aRq http://bit.ly/y05aRq
TheMarioBlog post #931