6 Flares
Twitter
2
Facebook
1
Google+
2
LinkedIn
1
StumbleUpon
0
6 Flares
×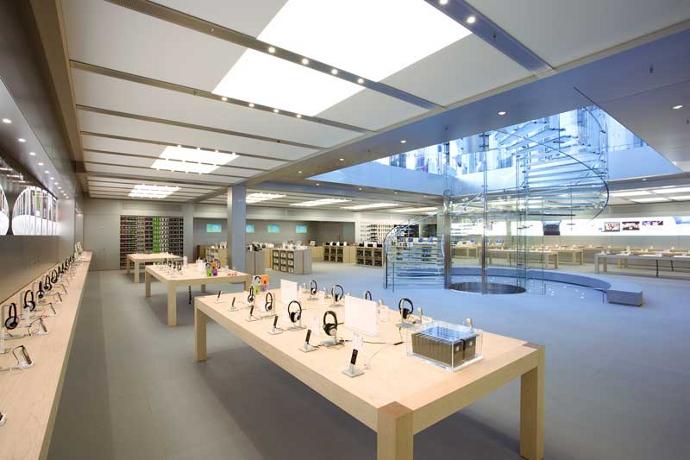 An empty Apple Store. Is this the future for Apple?
Since Apple's share price peaked in September 2012 the company has lost 40% of its value. 40 PERCENT. For most (all?) other companies that would be catastrophic. It's not exactly great for Apple. When the share price dropped below $400 a share yesterday – the first time since October 2011 – it must have set alarm bells ringing in the office of CEO Tim Cook.
The reason for this fall? A profit warning from Cirrus Logic, the company that makes audio chips for the iPhone and iPad. The company that gets around 90% of its business from Apple. Yeah, a profit warning from them can only really mean a drop in demand for its iPhone / iPad chips from the tech giant, which  in turn can only mean a drop in demand for the iPhone / iPad itself.
This is not surprising to TechDrink. The range has stagnated since the iPhone 4 and the new iPad. The iPad Mini is actually quite an attractive product but it's not groundbreaking and if you already had an iPad, you certainly weren't about to buy a Mini. Some would argue if you had the iPad 2 then you weren't going to get a new iPad. The leap forward in technology between iterations of both products has become more of a shuffle.
In the face of increasing competition in both the smartphone and tablet markets, Apple isn't doing enough to persuade newcomers to the brand. Everyone knows that the iPhone and iPad are superior products in terms of build quality, looks and usability but a decreasing number are convinced that justifies the significantly higher price.
There are a lot of smartphones hitting the market at extremely low cost that "will do". In some cases, they're challenging Apple on the looks front too – the Nokia Lumia is a great looking phone for example. On the tablet front, the iPad stands alone in terms of looks, but the gap in usability is rapidly diminishing between it and the plethora of Android versions out there. Even the Kindle Fire HD looks like a preferable purchase against it. Apple will no doubt be secretly pleased that the Surface looks terrible and is priced badly.
In short, Apple is losing the race in both markets and it needs to do something to justify their high price point and stop people choosing the cheaper, adequate option. But more than that, they need to reestablish the air of superiority and mystery they once had. It's been eroded by product leaks, negative stock market reactions and, yes, the loss of Steve Jobs.
Apple are very much in danger of going from the company to a company and when you sell top of the range products that's not going to cut it. The cheaper option will always be preferred because there's no prestige in owning something from a company.
In the meantime, Apple is just going to have to accept the fact that selling less for more is no longer working.

Ben is the founder and editor of TechDrink. A huge fan of technology and social media, he has been blogging on those and many other subjects for well over five years. You can follow him in many places, including
Twitter
,
Facebook
and
Google+
.

Latest posts by Ben Greenwood
(see all)
Apple Shares Dip Below $400 – What's Going On?

- April 18, 2013

Google To Unify Messaging with Google Babble?

- March 19, 2013

That Google Glass Video Everyone Is Raving About

- February 21, 2013
6 Flares
Twitter
2
Facebook
1
Google+
2
LinkedIn
1
StumbleUpon
0
6 Flares
×