iPhone cashed in on the Samsung battery fiasco quite well. Apple reported net sales of $78.4bn for the last 3 months of 2016, up 3% of last year, and making its strongest quarter ever.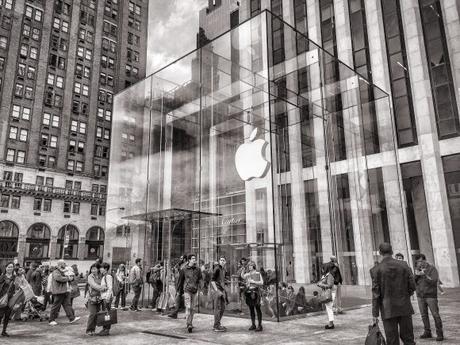 This is big news for Apple because last year iPhone sales reached a plateau after 15 years of record-setting sales and revenue gains. The tablet business of iPad has been slow too. iPhone 7 ended that slump for Apple and Apple says Apple Watch too did a great job with increases the total revenue.
"We're thrilled to report that our holiday quarter results generated Apple's highest quarterly revenue ever, and broke multiple records along the way." said Tim Cook, Apple's CEO.
The $78.4bn sales breakdown to these numbers; $54.3bn from iPhone sales, $7.2bn from Mac sales, $5.5bn from iPad sales, $4.0bn from other products (including Apple Watch) and $7.1bn from Apple services like App Store, Apple Music and iCloud.
Despite speaking optimistic about Apple Watch sales in every quarter, Apple is yet to reveal its actual sale figures.
"Revenue from Services grew strongly over last year, led by record customer activity on the App Store, and we are very excited about the products in our pipeline."
It is hard to ignore the fact that Samsung's battery fiasco which led to the death of Note 7 could be the reason of sudden surge in the sales figure for Apple. That doesn't mean Samsung is out of the game completely, Samsung is still growing at a rate of 3 percent annually.
We sold more iPhones than ever before
Apple has just taken the major smartphone market share with a strong 17.8% in Q4 2016 with Samsung not lagging far behind with 17.7% in the same quarter. In Global Smartphone Vendor Shipments, Apple leads with 78.3% in Q4 2016, and Samsung with a strong 77.5% in the same quarter.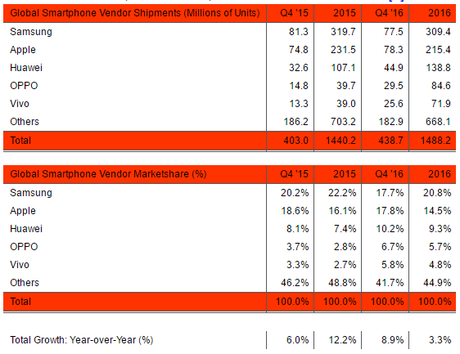 A strong quarter doesn't necessarily mean Apple will stay the leader, the 2017 releases will make a lot of difference. Samsung is pulling all their resources to bring the best in their next smartphone(s) with leaks suggesting bezel less phones, dual camera and two variants to compete with the Apple's two variants. Samsung didn't shy away from releasing a PR statement about their battery issue and how they are making sure it doesn't happen ever again. Apple now has more than $27billion in operating cash flow and more than $200bn cash in overseas accounts.
With the 10th anniversary iPhone coming later this year, customers holding back the upgrades probably will be upgrading soon. Analysts expect this strong performance may continue for this year.