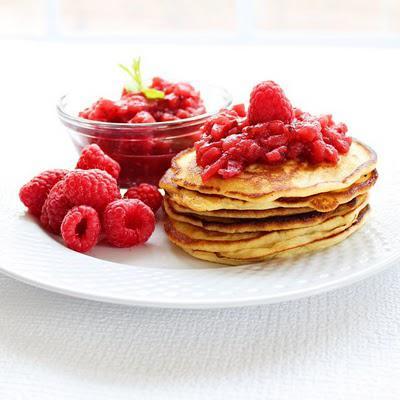 I'm sure for many of you making pancakes is as easy as 1, 2, 3. Years ago when I came to US was the first time I had pancakes. Throughout my childhood we had crepes, sort of french toast and rice pudding for breakfast. This fat crepes were new to me. My husband doesn't like pancakes so I rarely make some. Most of the time I make crepes and fill them with whatever I crave for.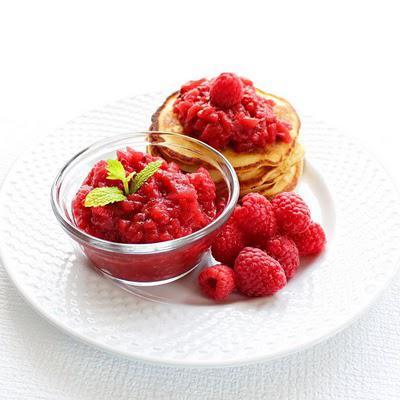 Over the time I learned from my own experience that my pancakes look and taste much better if cooked over low heat versus medium to high heat as most recipe require. I know I still have to make lots of pancakes until they look like the American pancakes. Well. Rome wasn't built in a day, was it?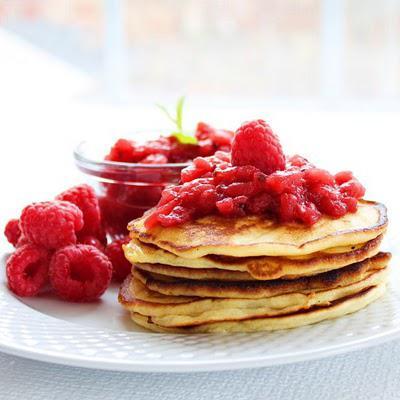 As you might have noticed lately I'm starting to cut on my chocolate and replace it with berries. They are high in nutrients and have lot less calories than chocolate. Tiffany prefers raspberry, she picks them from the fruit salad. Sometimes I might trick her with some blueberries or blackberries. I found at Bj's a bag of 3 lbs of organic berries for just $10. Fresh are much better but in fruit sauce/spread or when making fruit yogurt frozen ones work perfect.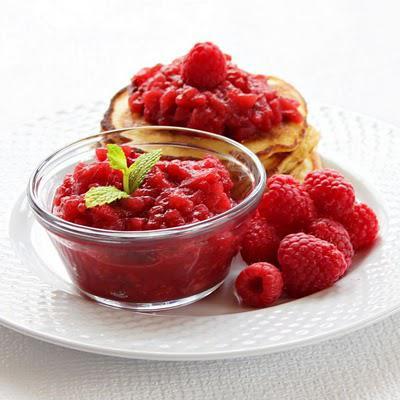 This morning I woke up and wanted pancakes. I remembered my friend Claudia had some ricotta pancakes paired with some apple and berry sauce.
I only made half of the sauce and used just raspberries. Turned out perfect, tasted like summertime.
For complete recipe and directions you'll have to visit my friend Claudia.
While you're there, check her wonderful cakes, there are so tempting. And since Spring is here and soon tulips are going to be all over, would you like to know if they are edible or not?
I started reading Claudia's blog over the fall and fell in love with her photos and wonderful stories. It's always a pleasure to read her. My dear Friend, Thank you for being such a wonderful person and sharing so many delicious recipes with us.
You can follow Claudia on CookEatShare
Thank you Monet, Carolyn, Wendy, Elisabeth  Lora   Alisha  Sara   Kate  Claudia   Nancy