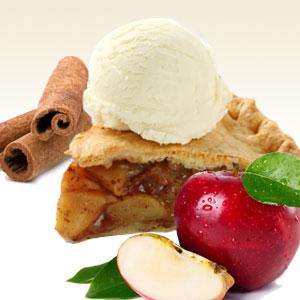 Apple Pie Fragrance Oil (Our Old Version) - Fragrance Oil Spotlight
There is nothing like the scent of apple pie.  A true American classic, Apple Pie scent is the aroma of fresh crisp apple intermingled with warm and mouthwatering spices.  This delicious scent in products is a big seller too.  This apple pie scent is fantastic for lovers of food type fragrances, or anyone who just enjoys an all around good apple aroma.  According to our clientele this great dessert scent is addictive, and they find their clients always craving more.  This strong and delicious scent is a wonderful addition to any product line and makes for truly yummy and scrumptious smelling homemade products.
What does Apple Pie Smell Like?
This fragrance oil by Natures Garden is one that although we have had many apple scents to choose from, this apple pie has been with us since we started making candles.  This scent is not the same as our Hot Baked Apple Scent, as this one has more of a cinnamon "kick" to it.
How Do Our Customers Use Apple Pie Fragrance Oil?
For those of you that are candle crafters, this scent comes highly recommended!  A perfect apple pie scent for anyone looking to add bakery type scents to their line; Apple Pie Fragrance Oil smells just like apple pie fresh out of the oven.  Our customers use this apple pie scent in their soy, WOW, Pillar of Bliss, Joy, and paraffin waxes.  With an all around amazing scent throw, this fragrance is wonderful in both the hot and cold throw.  As for home scenting ideas to make your house smell good, this apple pie scent works phenomenally well in tart and oil burners, smelly jellies, liquid potpourris, sachet beads, room sprays, and reed diffusers.
For the bath and body crafters, this delicious apple pie scent is so realistic you can even smell the crust.  The usage rate for this fragrance is 1% in bath oils, soaps, and bath gels; and carries a .5% usage rate for lotions and perfumes.  Apple Pie Fragrance Oil also has a .5% vanillin content, so vanilla white color stabilizer is highly suggested to help stabilize discoloration in finished products.  This mouthwatering fragrance can be used to scent: body scrubs, body butters, perfumes, bath bombs, melt and pour soaps, salt bars, lotions, whipped body butters, and foaming hand soaps.  Finally, for those of you that are cold process soapers, this fragrance is great.  Here are the official testing results:  Very slight acceleration.  No separation.  Discolors to a tan color.  Yummy scent!
If you are interested in using this apple pie scent in a candle recipe, please click on this link to view Natures Gardens Independence Day Candle Recipe.