No Churn Apple Pie Ice cream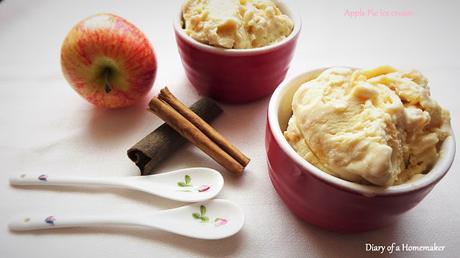 Spring and autumn are my favorite times of the year because the changing of the seasons is so obvious just like a slow motion movie. Not to mention the delicious food that you can enjoy witheach phase.
Comes autumn and my oven is singing the praise of fall -esque foods like a good homemade Apple Pie. It's a dessert that I like to indulge in throughout the year and and so I stick to making Apple Pie in winter and autumn which eventually transmutes into Apple Pie Ice cream from autumn to spring and summerThe best part about Apple Pie ice cream is that you don't have to spend time in the kitchen making and baking the crust. Who wants to turn on the oven when there's scorching heat outside? You can still add some crushed cinnamon biscuits into the mixture before freezing to add the crunch associated with the crust which will be lacking because we won't be making the Apple Pie crust.
The ice cream surprisingly tastes like apple pie even if you don't add add the biscuits. The apples are cooked with butter, sugar and cinnamon powder. The resulting compote is then added to the ice cream mixture upon cooling simple as that!
For other homemade no-churn ice cream ideas checkout my recipe for Tutti Frutti Ice cream, Avocado and Strawberry Kufi and Rocky Road Ice cream
IngredientsQuantity
cooking apples3 medium
brown sugar3 tbsps
butter1 tbsp
cinnamon powder1 tbsp
evaporated milk400 ml
condensed milk400 ml
double cream350 ml
vanilla extract1 tsp
cinnamon biscuits (optional)1/2 cup
Method:
Chop the apples into small cubes and cook along with the sugar, butter, cinnamon and vanilla extract.Cook till the apples are caramelised, soft and the water has evaporated. Takes about 15-20 minutes. Let cool.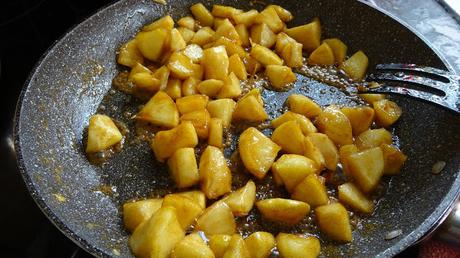 Separately whip the double cream till soft peaks form. Set aside. Beat the evaporated milk with the help of an electric beater. Beat for at least 5 minutes and then pour in the condensed milk. Now mix together the whipped cream and the evaporated milk mixture. Finally add the cooked apples.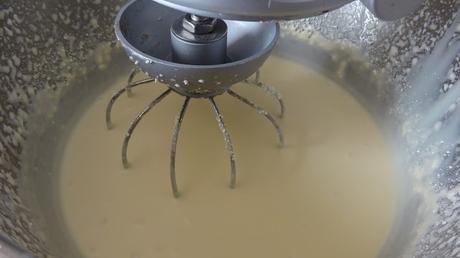 I forgot to take the picture of the final mixture with the apples so accept my apologies for that. I will update the picture as soon as I make the Apple Pie Ice cream again.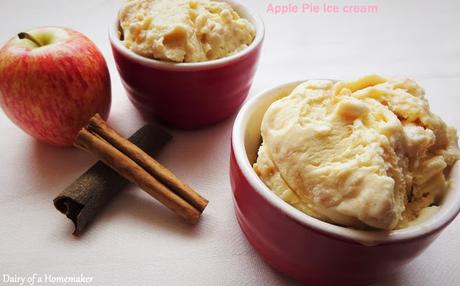 Pour the ice cream mixture into an airtight freeze proof container. Freeze for at least 7-8 hours. Hope you like this recipe. Don't forget to share it with your friends.
Buon Appetito!