New to little Indiana? Subscribe for free to my RSS feed. Thanks for stopping by!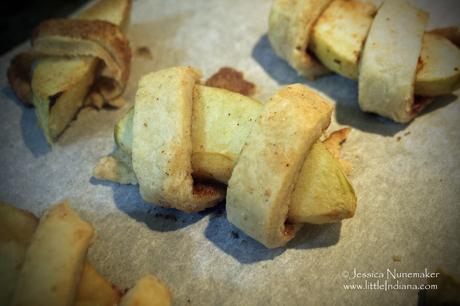 Apple Pie Bites Recipe or Handheld Apple Pie Recipe
Kid #1 is a huge fan of apple pie but with only 3 1/2 of us in this house, I don't usually make it unless we have company–so when I saw this recipe for Apple Pie Bites, I knew we had to try it!
Think of Apple Pie Bites like a hand-held apple pie. But instead of pastry entirely closing the apple and filling, it's basically just a cinnamon and sugar covered apple with pastry twisted around.
Yes, it's pretty and surprisingly fast to make! Warm out of the oven, they are delicious! I believe this would be a fun addition to a bake sale or side item at one of those church chicken dinners. From Taste of Home October 2011.
Apple Pie Bites or Handheld Apple Pie Recipe
Print Apple Pie Bites
Rating: 51
Prep Time: 15 minutes
Cook Time: 15 minutes
Total Time: 30 minutes
Yield: 16 Apple Pie Bites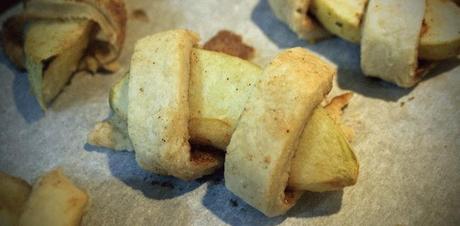 From Taste of Home 2011.
Ingredients
1/2 Cup Sugar
2 tsp Ground Cinnamon
1 Pie Shell, Unbaked (I make my own but you could use store-bought)
3 Tbsp Butter, Melted, Divided
2-3 Medium Tart Apples, Peeled and Wedged
Instructions
In a small bowl, mix together Sugar and Cinnamon. Set aside 1 Tablespoon.
On floured surface, roll pie crust into square. Brush with 2 Tablespoons butter. Sprinkle with remaining Cinnamon/Sugar.
Cut pie crust into 1" strips or smaller. I began with larger strips but preferred the smaller strips in the end.
Wrap one strip around each apple slice, placing the Cinnamon/Sugar side against the apple.
Place on parchment paper-lined cookie sheet. Brush the top of the apple pie handheld pies with the remaining Butter. Sprinkle with remaining Cinnamon/Sugar mixture.
Bake 425* for 13-15 minutes or until lightly golden brown.
Schema/Recipe SEO Data Markup by ZipList Recipe Plugin2.0http://littleindiana.com/2012/12/apple-pie-bites-recipe-or-handheld-apple-pie/Photos are the Property of little Indiana. Do Not Use Without Permission.
Find pictures in Indiana on my Flickr photostream or on the new little Indiana Tumblr blog.
Just don't forget to tell 'em that  little Indiana sent you!
Don't miss a moment. Subscribe to little Indiana and receive instant updates to stay on top of everything "little."
little Indiana: Where to Stay, Play, and Eat in Small Towns in Indiana. Discovering Indiana's best small towns! Now get little Indiana on your Kindle.
Targeted. Relevant. Affordable! little Indiana advertising.