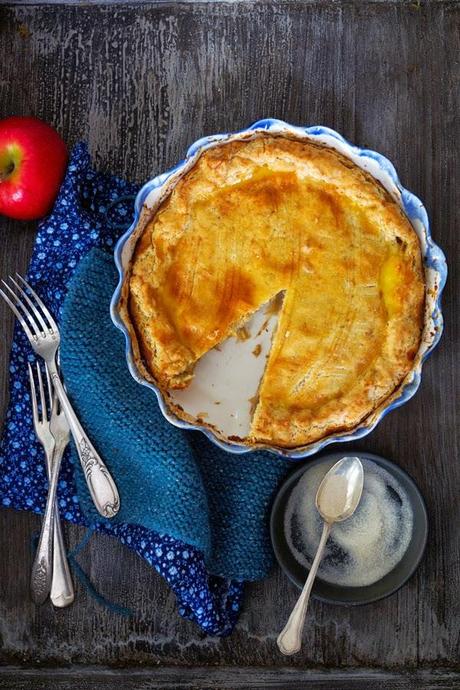 by Béa
Type: pastry
Servings: 6
Ingredients:
Pie pastry of your choice*
2 pounds Macoun apples
1/4 cup water
1 vanilla bean, split open and seeds scraped out
2 tablespoons dark Muscovado sugar
1 tablespoon butter + more for dish
2 Pink lady apples, peeled, cored and sliced
Pinch of blond cane sugar
1 egg yolk, beaten with a little milk

*I don't have a detailed recipe because I prepared the pastry quickly at night the day before, and didn't measure quantities properly. Let me make it again and I will update once done.
Directions:
Prepare the pastry and divide into two balls.
Flatten them into two 5-inch disks. Place them between plastic film sheets and refrigerate overnight.
Peel the apples, core them, and quarter them. Place them in a pot with 1/4 cup water, the vanilla bean and seeds. Simmer, covered, until soft.
Let cool and discard the vanilla bean.
Mash the apples with a fork.
Stir in 2 tablespoons dark muscovado sugar; set aside.
Preheat the oven to 350 F.
Take the pastry out of the fridge. Once not too cold, roll two 10-inch disks. Place one in the fridge. Garnish a 9-inch buttered pie dish with the other. Make small holes with a fork and reserve in the fridge.
In a frying pan, melt 1 tablespoon butter. Add the sliced apples with a pinch of blond cane sugar and cook for 3 minutes.
Place the cooked apples on top of the pastry inside the pie dish.
Add the apple sauce.
Tuck in the charm.
Add the other disk of pastry, and pinch the sides to close the pie (remove any excess of pastry).
Beat the egg yolk/milk mixture with a dash of sugar and brush on top of the pie. Using a fork, make a pattern on the pie.
Bake the galette for 40 minutes, or until the top is light golden brown.
Remove from the oven and let cool. I love this galette eaten lukewarm.