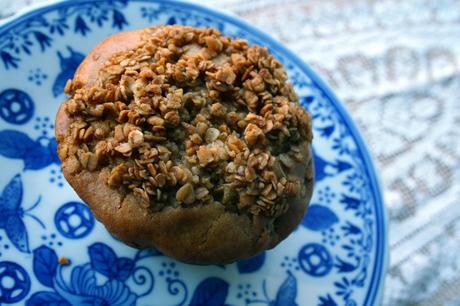 Lucille Amelia is 8 days old and I'm just now starting to feel like a human again. The first few days post-delivery were beautiful AND challenging. Nursing, sleep deprivation, fluctuating hormones and unmentionable fluids made me feel like I'd never regain my composure. But sure enough, we're all learning what it means to be a family, and we're all finding much love and joy to celebrate.
As I mentioned in my birth story, I wanted muffins on the day Lucy was born. There's a tea shop in Manitou Springs that makes the best muffins. All organic ingredients and fresh fruit. They offer six different muffins but you can only buy them on certain days of the week. Sunday is Date Walnut. Thursday, Banana. Monday, Cherry Almond. On Lucy's birth date, they had made my absolute favorite: Apple Cinnamon.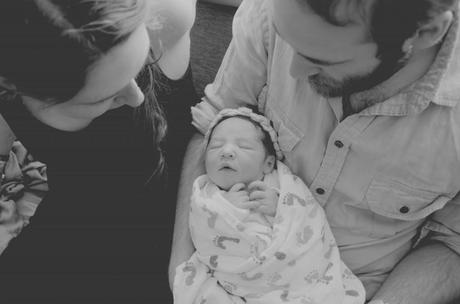 I've had a muffin from this delightful bakery/tea shop every day since Lucy's birth. And I know I'll continue to frequent this tea shop in the months to come. But I also wanted to try to my hand at making my own version. Not only will it save me money (I can't justify spending $2.00 a day on muffins for much longer!) but time too. Leaving the house with Lucy requires much more planning and energy!
As I mentioned earlier this summer, I had the opportunity to sample Lactaid Milk. During my pregnancy, I developed a slight intolerance to dairy, and I was happy that Lactaid offered dairy products that I could still enjoy. Calcium is so important during pregnancy and post-delivery!
Below is a segment from the Today Show where Melissa d'Arabian makes a delicious and dairy-free Chicken with Creamy Mushroom Sauce. Ryan and I plan on making this soon!
http://www.today.com/id/52297933/ns/today-today_food/t/chicken-lactose-free-creamy-mushroom-sauce/#
And I've made my own recipe using Lactaid Milk…an adaptaion of the delicious Apple Cinnamon Muffins that Lucy and I both love! Follow this link for more Lactaid Recipes…there are some good ones!

Apple Crunch Muffins
2 cups Unbleached All-Purpose Flour
1 teaspoon baking powder
1 teaspoon baking soda
1/4 teaspoon salt
1 tablespoon cinnamon
1/2 cup vegetable oil
1/2 cup granulated sugar
1/4 cup dark brown sugar
1 large egg, lightly beaten
1 cup Lactaid Milk (whole)
2 large apples, peeled, cored, and coarsely chopped
1 cup granola
Preheat the oven to 375°F. Grease and flour a 12-cup muffin pan.
Mix together the flour, baking powder, baking soda, salt, and cinnamon, and set aside. In a separate bowl, combine the oil and sugars. Beat until light and fluffy. Add the egg and mix well. Mix in the Lactaid milk.  Stir in the dry ingredients and fold in the apples.
Divide the batter evenly among the prepared muffin cups, and sprinkle granola on top. Bake for 25 to 30 minutes, or until a toothpick inserted into the center of a muffin comes out clean. Remove from the oven and allow to cool for five minutes before removing from pan. 
Monet
Anecdotes and Apple Cores