Hello!!Guess who's back!After a period of around one month with no posts,
Zeus
DreamCaster is back to work, fun, and blogging!Today, and to celebrate the come back, I am going to give away the recipe for a very delicious dessert. The Apple
Coffee Cake
<3It is easy to prepare and very delicious. Mouthwatering

Here is the recipe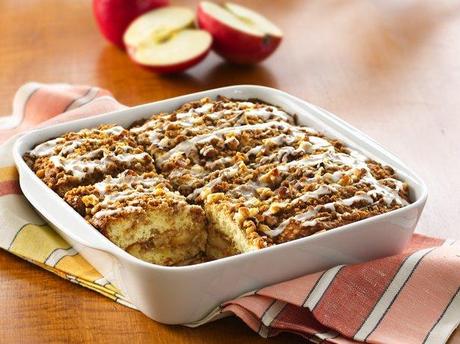 Ingredients
2/3 cup Original Bisquick® mix
2/3 cup packed brown sugar
1 teaspoon ground cinnamon
1/2 teaspoon ground nutmeg
1/4 cup cold butter or margarine
Coffee Cake
2 cups Original Bisquick® mix
2/3 cup milk or water
3 tablespoons granulated sugar
1 egg
2 medium cooking apples, peeled and thinly sliced (2 cups)
2 tablespoons chopped nuts
Glaze
1/2 cup powdered sugar
2 to 3 teaspoons milk
And here are the directions:
Directions
Heat oven to 400°F. Spray 9-inch square pan with cooking spray. In smal bowl, mix 2/3 cup Bisquick mix, brown sugar, cinnamon and nutmeg. Cut in butter, using pastry blender (or pulling 2 knives through ingredients in opposite directions), until crumbly; set aside.
In medium bowl, stir together 2 cups Bisquick mix, 2/3 cup milk, the granulated sugar and egg; beat vigorously 30 seconds with spoon. Spread half of batter in pan. Arrange apple slices on batter; sprinkle with half of streusel topping. Spread with remaining batter; sprinkle with remaining topping. Sprinkle with nuts.
Bake about 25 minutes or until toothpick inserted in center comes out clean. Cool in pan on cooling rack 20 minutes. In small bowl, stir glaze ingredients until smooth enough to drizzle. Drizzle glaze over warm coffee cake.
Try it and tel me how it tastes like

Bon appetite

Blessed Be )O(
Source: Apple Coffee Cake – Betty Crocker
33.888629
35.495479