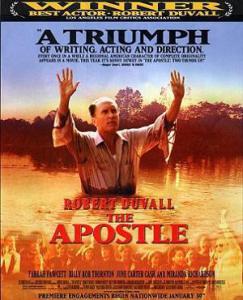 I was teaching in a seminary when Robert Duvall's The Apostle came out. Seeing the favorable reviews, I put it on my wish-list and somehow it never managed to rise to the top. Perhaps it was because I worked at a religious institution 24/7. Seeing a movie about church felt almost superfluous. Many years on now, my wife bought me the DVD (yes, we're old-fashioned) and we finally sat down to watch it. I realized, as the preaching started, that I didn't know what to expect. I assumed that Sonny would be a typical Elmer Gantry-type character, cynical and self-centered, but as I kept waiting for the sneering commentary to come, it never did. The movie didn't valorize Sonny either—he is a flawed preacher who commits murder out of jealousy and flees the state to start a life elsewhere. Landing in rural Louisiana, he begins building a life doing what he does best—preaching. The local people benefit from his presence, so I was waiting for the cracks to appear, but they never did. The movie is amazingly respectful of Holiness, or Pentecostal religion. It left me quite thoughtful.
Having grown up in a non-denominational setting, the scene of the altar call was one that was familiar to me. Fiery sermons were also something I'd seen before. Theological education, of course, causes one to question much of this, which is why many Fundamentalist churches do not hire seminary graduates to be their clergy. Study tends to refine that ability to let go and have emotion become the substance of the service. Recalling my own childhood, steeped in the Bible and fervent fear of Hell, church was primarily an emotional catharsis for me, not an intellectual enterprise. The problem for me was that I couldn't stop thinking about it. That's where it often starts to crumble for those who want to understand emotion-driven religion. It doesn't mix well with rationality.
The Apostle is made all the more powerful for its use of actual Holiness preachers in the movie. When they're preaching, they're not acting. They're preaching on film. Part of the draw, I suppose, for many viewers is that this is a foreign world. Mainstream church services are often subdued, perhaps even dour, by comparison. They are, however, more rationally driven. The substance of any mainstream liturgy derives in some form from Catholicism. Pentecostalism dismisses all of that, retaining the music and the sermon and the Bible. Otherwise, they are practically different species. The storyline of the movie isn't anything grand. Preacher commits crime, repents, gets caught. Still, there's an authenticity to it that makes it compelling. No Jim Jones here. No David Koresh. Just a man, in many ways typical, trying to make his way in the world in the only way he knows how. And that can be inspirational.