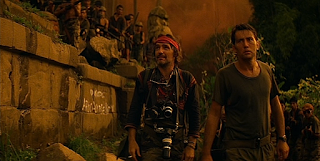 "I see no method at all, sir."

Francis Ford Coppola's
Apocalypse Now
(1979) is legendary, from its nightmarish production to the mystifying end product. Some consider it Coppola's masterwork, better even than
The Godfather
, and Hollywood's definitive Vietnam War movie. Several viewings leave me with the same impression: pictorially impressive, but ultimately unsatisfying.
Burnt-out Captain Willard (Martin Sheen) receives an assignment to assassinate Walter Kurtz (Marlon Brando), a Green Berets Colonel who went insane. He joins a naval PT boat for a voyage upriver, encountering bloodthirsty Air Cavalry, Playboy Bunnies, French expatriates and soldiers trapped on the fringe of nowhere. Willard's own command disintegrates during the voyage, but Willard never doubts his commitment to the mission. Until he meets Kurtz, hidden in the mountains with a private army of Green Berets and Montagnards...
It's undeniable that
Apocalypse Now
's a piece of bravura filmmaking. At the height of his creativity, Coppola inundates viewers with incredible imagery, from the famous opening of napalmed trees dissolving to Willard's hotel room, scored to "The End." He enlists Vittorio Storaro (
The Conformist
) for mind-blowing photography, from the orange washed-out battle scenes to the moody blue of a tiger ambush and the flickering, frightening finale at Kurtz's compound. If nothing else,
Apocalypse Now
offers endless indelible images.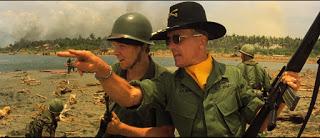 Apocalypse Now
peaks early, with an amazing half-hour of chaos. First, Willard's crew arrives at a village being mopped up by Colonel Kilgore's (Robert Duvall) cavalry division. Besides impressive camerawork and an amusing cameo, Coppola incorporates a million telling details that register subliminally: shellfire and delayed explosives, political officers proclaiming friendship to the ravaged villagers, a chaplain leading wounded soldiers in prayer. It's the Vietnam experience in wonderful, telling miniature.
That brilliant scene's merely prelude to
Apocalypse
's most famous set piece. Blaring Ride of the Valkyries, Kilgore's helicopters attack a Vietcong village, blasting VC guerrillas and civilians with rockets and machine guns. It's war at its most savage, compelling and ridiculous, as Kilgore's men surf under shellfire. Robert Duvall gives his best performance, a bellowing, half-crazed warrior who cares only about killing and surfing. If
Apocalypse Now
ended here, it would be the greatest film ever made.
Too bad there's 100 minutes to go. Coppola and scenarist John Milius use Joseph Conrad's
Heart of Darkness
as a template, but their bizarre vignettes seem more like Lewis Carroll at war. Increasingly outlandish set pieces pile up, from a USO show gone wrong to a bizarre frontier outpost without a commanding officer. Despite intriguing imagery, these scenes reinforce the same "war is mad" message ad nauseum. Rather than gain momentum,
Apocalypse Now
disintegrates as Willard nears Kurtz, its absurdity growing repetitive.
Upon reaching Kurtz's compound,
Apocalypse
collapses. After two hours of build-up, Kurtz is a bald, bloated Marlon Brando skulking in the shadows. Murmuring T.S. Elliot and epigrams about severed arms, he's less compelling than ridiculous;
this
is the mesmerizing demigod who commands a private army? If we're meant to see Willard tempted by Kurtz, it never takes hold; he sits around sweating for twenty minutes before taking action. The Eisenstein-inspired climax flops; after endless overwrought imagery, even seeing a buffalo hacked to death makes little impact.
These flaws multiply exponentially in
Apocalypse Now Redux
, Coppola's disastrous 2001 recut. He reinstates 51 minutes of footage, mostly superfluous silliness like Willard stealing Kilgore's surfboard, or Willard's men cavorting with stranded Playboy Bunnies. In case the repetitive metaphors aren't enough, Coppola provides more direct criticisms of American conduct in Vietnam. It's unclear why Kurtz reading newspaper articles about the war would elucidate what's already obvious.
These additions harm the pacing, but the plantation scene derails the entire film. Willard's men encounter an enclave of French expatriates in the jungle, twenty years after Dien Bien Phu. They invite the Americans for dinner, then endlessly debate colonialism and Cold War politics before Willard slips away to bed a young Frenchwoman. Nearly twenty minutes long and excruciatingly didactic, this awful, deadening sequence destroys the pace, ruins the tone and makes the thematic texture painfully literal.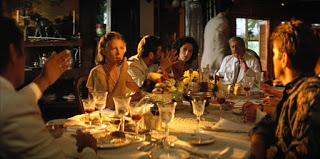 Martin Sheen makes a fine laconic straight man, focusing on the mission while wrestling with inner demons. His crewmates are another story: Albert Hall's rectitude works, but Laurence Fishburne and Sam Bottoms are non-entities, while Frederick Forrest devours acres of scenery in a marathon ham performance. These broad strokes work better for minor characters like Duvall and Dennis Hopper's crazed journalist. Harrison Ford and G.D. Spradlin enliven an early exposition scene; R. Lee Ermey is a helicopter pilot; Colleen Camp and Cynthia Nixon are among the Playboy Bunnies.
Apocalypse Now
is so impressively outsized that it's a shame I can't embrace it. Coppola never tried anything so ambitious again; his '80s output is a mixed bag, his '90s films disastrous and recent work inscrutable. Despite many masterful moments,
Apocalypse Now
remains an audacious mess.