When I think of
gardens
in the abstract, I have in mind Monet's various sumptuous impressionist renderings of his grounds at Giverny, or certain songs of Van Morrison featuring gardens all wet with rain. When it comes to gardens in the concrete (as my current one is - poor pun intended), I recall a bittersweet mix of long hours of back-breaking labour, digging, de-stoning, weeding, battling against rampant nature... and much shorter hours of admiring the results of said labours.
Gardening can be a very therapeutic endeavour. No less wise a man than Monsieur Voltaire exhorted us to cultivate our gardens as a means to achieving true contentment - but the rewards only come from toil, a waging of the constant battle. Admiring other people's gardens, enjoyable though it is, doesn't provide the same frisson. That deep, connected pleasure can only be won hands-on, and it's not easy.
The worst of it is the other life-forms one has to contend with: the sheer thuggery of slugs, those armies of aphids and battalions of blackfly that variously devour or infest the flowers and vegetables we coax and tend so lovingly. Note to God: aphids - bad invention!
The essayist, short-story writer and all-round wit Dorothy Parker was fond of claiming that she could immediately construct an aphorism out of any word anyone chose to pitch at her. I guess it became a party trick of hers. My favorite example is of the time someone called out 'horticulture'. Without missing a beat, Ms Parker shot back with this parodic gem: "you can lead a whore to culture, but you can't make her think." Game, set and match. What a gal.
My second favorite newspaper headline ever is: Woman claimed dead body in garden was plant.
My favourite, from the Miners' Strike, triumphed by vitrue of a priceless misprint: Flying pickets sent to other planets.
One day my concrete garden will be rampant with horticulture and then everything will be very lovely, with marigolds, red hot pokers and masses of geraniums in big olive oil tins painted white just like in a Greek taverna; maybe the odd tomato as well.
This week's poem is about one such geranium, pictured below. I promised as much a few blogs ago (Overwintering, 28/11/2015 to be exact) and I'm a man of my word (most of the time).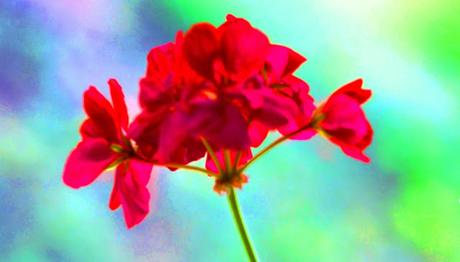 Neon Geranium
Neon Geranium
Electrifying flame of passion,
not red, not pink,
but some hot iridescence
in between,
pulsing on a spectrum
that draws honey-rangers
to the lit paper petalry
of your pollen stores;
mind-shimmerer,
fabulous, fire-sprouting meme
of returning seductions,
above your bright veined leaves,
long strident stalks,
you draw me in
on sultry summer afternoons
even though
you are redolent
of tomcats and tomatoes.
Thanks for reading, S ;-)
Email This
BlogThis!
Share to Twitter
Share to Facebook
Reactions: