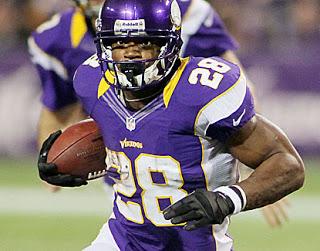 A few weeks ago, I read online that Fran Tarkenton, the legendary Vikings Hall of Fame quarterback, made a bold prediction after the Vikings lost to Green Bay, and they were skidding at 6-6 and it looked like their season was on the brink.
Fran boldly predicted the Vikings would run the table and finish 10-6. I thought that was crazy, as they had to face Chicago, St. Louis, Houston and Green Bay.
Damned if he wasn't right.
The Vikings ended an astounding month of December by winning an absolute thriller, 37-34 over the Packers, and wrapped up the final Wild Card berth in the NFC.
And I have simply run out of superlatives to describe the great Adrian Peterson. He rushed for 199 yards and scored two TDs in the win, and came up just 8 yards short of tying Eric Dickerson's NFL record for rushing yards in a season. AP wound up with 2,097 yards, and is second all-time.
It was one of the most nerve-wracking days in the history of my Vikings fandom. The Vikes needed the win to make the playoffs, as Chicago had won in Detroit, so a Vikings loss would have sent them into the off-season.
And to top it off, they were playing their hated division rival.
The Vikings led the entire way. They jumped out to a 10-0 lead in the first quarter, on a 54-yard FG by Blair Walsh (hasn't he been simply amazing?) and AP's 7-yard run.
Christian Ponder had one of his best games of the year, going 16-for-28 and 234 yards, and three TDs. He threw no interceptions, and made no glaring mistakes. He has his critics for sure, but he can breathe a bit easier tonight.
Aaron Rodgers was even better, throwing 4 TDs and for 365 yards. The Vikings led 20-10 at the half, and Green Bay came out firing in the second half. They finally tied it up on a Mason Crosby FG at 27 early in the fourth. Both teams added passing touchdowns, and it was knotted at 34 with less than 3 minutes to play when the Vikings got the ball.
And Ponder led the Vikings downfield, and at the Green Bay 38 with less than a minute to play, I was thinking if AP ran it in from there, he would set the rushing record and the Vikings would win the game and head for the playoffs. His last rush was down to the 12 yard line, and he was only 9 yards short of the setting it. Damn.
But Walsh came on to kick a 29-yard FG to win it (and it tied the Vikings FG record for a year with 35), and send the Vikings to a rematch with the Packers in Green Bay next weekend (it denied Green Bay a first-round bye).
It has been an incredible year. Not just AP's near-record. But the Vikings went an incredible 10-6, after winning just a combined 9 games the last two seasons. A terrific job by Leslie Frazier and his staff. I honestly felt after the draft back in April the Vikings would make strides this year, and even get back to .500.
It's a proud day to be a Minnesota Vikings fan. Thank you AP. Thank you Leslie Frazier.
Thank you Vikings. Now on to the playoffs.