On a Sunday night, after 4 days of country music and beer and dancing and sweat and fried food and new friends and old friends, Florida Georgia Line took over the Boots & Hearts main stage and brought the energy we expected…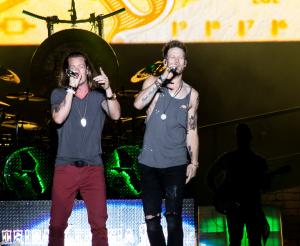 There was perhaps more anticipation for the start of this set than any other after an unfortunate delay to the the start of it – and maybe the biggest release of energy and cheering and relief when Tyler and Brian started their show with
Every Night
, a heap of beach balls flying into the crowd, and a whole lot of singing from the 35,000+ in attendance.
We had never seen FGL before, and while we knew it was going to be a party, we didn't know that we were going to be singing along with all of the radio hits, catching a case of the feels when the boys slowed it down for Dirt, and being really happy and impressed when they invoked our more classic country sensibilities by going to Alabama, Garth Brooks, and Alan Jackson.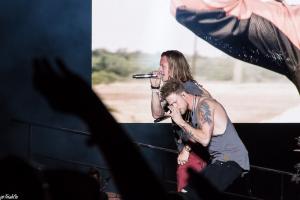 Without a doubt, these boys like to have a good time. And they want for the people in the crowd to have a good time. Their banter is polished, their energy is infectious, and they aren't scared to pander in all the right ways – telling the crowd they'd missed Canada with an exclamation of
"it's been too damn long".
If we had to pick two highlight moments of the Florida Georgia Line set, we'd have to say…
The sound of the crowd singing along to Round Here, the first song that they really got loud and proud to know the song and show the artists what they had to offer.
The end of the show, the boys playing Cruise, and busting out the Nelly remix version – supplying the rap as needed.
Check out the set list from Sunday night, some more pics and stay tuned for more coming soon!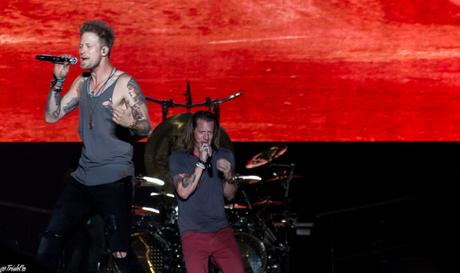 Florida Georgia Line Boots & Hearts Set List
🎉 Every Night
🎉 It'z Just What We Do
🎉 Round Here
🎉 Anything Goes
🎉 Get Your Shine On
🎉 Sippin' On Fire
🎉 Bumpin' The Night
🎉 Party People
🎉 Dirt
🎉 I'm In A Hurry (And Don't Know Why)
🎉 Stay
🎉 This Is How We Roll
ENCORE
🎉 Sundaze
🎉 Mix Tape Medley: Friends In Low Places, Forgot About Dre, Chatahoochie, This Is How We Do It
🎉 Cruise (remix)
Work Hard. Play Harder. Be Awesome!