I'm so craving a big serving of Orange Sherbet ice cream RIGHT now.
That
zingy
...
quirky taste
when it has melted in your mouth kind of
craving
. Makes you want to scoop up another spoon full of orange. I was inspired to find a dress in orange...
So my search began across Internet divide for the orange sherbert fashion of my next creative
fashion collage
. That's when I came across
GUCCI's website
. I found this delicious
orange belted nappa  leather dress
from net-a-porter.com.
So sophisticated and classy. The detailed design of this
a-line dress
is wonderful...Yum, Yum...
If your going to wear something so stylish. You must keep this classy
fashion look
going with
GUCCI's
1970'S black leather handbag
and a pair of
Ophelie
t-strap pumps
. Hummm...I need to accessorize with a piece of jewelry to accent the
orange belted leather dress
...There it is a
tiger head necklace
...now that finishes my classy, sophisticated look...
I would love to know what you think of
GUCCI's
delicious
orange leather dress
...
~.............................................................................................~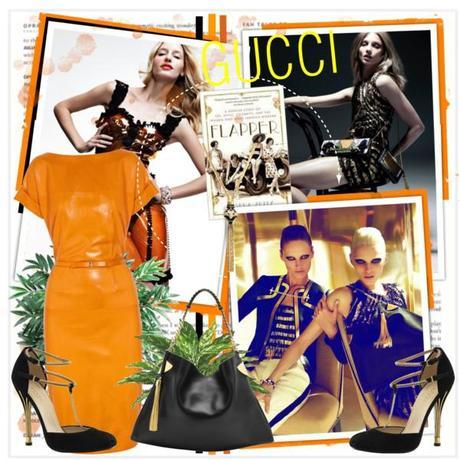 OHHH GUCCI BABY!!!! by
fashiontake-out
featuring t strap shoes