The cast of Anya17 recently visited a UK charity to meet women rescued from the throes of trafficking who are now trying to claim back their live. After the visit, Amy Webber (who plays Elena in Anya17) shared her thoughts on the day.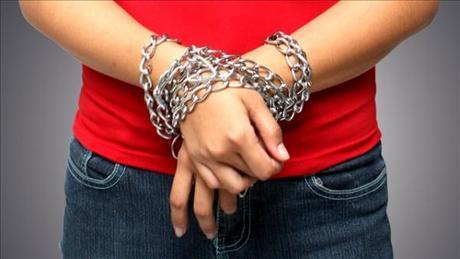 "Following our recent Cast visit to meet survivors of Human Trafficking, I just wanted to relate my experiences and express my thanks to both the Charity involved and to the amazing survivors in their care for this extraordinary privilege in the research for my role.
After seeing the film "Sex Traffic", visiting the exhibition at the London museum about slavery and reading books that the Director Caroline had given me, I felt that I had gained a little insight into this topic. Absorbing this somewhat remote information, and seeing the results of it for myself on real lives first-hand however, was very, very different. My eyes were about to be well and truly opened.
When we first walked into the room I had to hold back tears just on seeing the faces of the women. Feeling that tears would be unhelpful in such an emotionally-charged atmosphere, I managed to compose myself enough to talk with them about the effects of their experiences, and how the remarkable Charity is helping them to start rebuilding their lives in the UK or to provide them with the support and opportunity to get home to their loved ones.
One of the survivors was excited to be returning to her home country soon because she had been forced to leave behind children. When she told us (with signs and basic English) the ages and the names of her children, the smile on her face made me well up again, but this time from happiness. How wonderful it was that the thoughts of her children, her love and her longing gave her the hope to keep going through what must have been hell on earth. It demonstrated to me a glimpse of the extremes of humanity; how family and love can be the best things in the world, how strong love really is, but how some wilfully destroy other people's lives purely in the pursuit of cold cash. Is it hate, or disrespect, or just greed? I don't know how I could possibly describe these people with just one word.
The Charity is absolutely fantastic. Their volunteers love all these women like their own children or sisters, and in return the victims love them back just as much. The love the volunteers give helps to bring the survivors out of their unfathomably dark, nightmarish existence and starts to engender some trust for humankind. If it wasn't for these volunteers it is so clear that so many more women would just end their lives. The torturous effect of Trafficking on the souls of these women is all too apparent. After rescue some cannot even bring themselves to speak for weeks or even months. Reminiscent of Holocaust survivors hoarding food for decades after their deliverance, some can never let go of their passports again for fear that once more they will be taken from them, dooming them to be stranded in the UK forever, at the 'mercy' of their former Traffickers. A fate with a sure and certain end.
So many of these victims try to kill themselves that sadly, but inevitably, many succeed. I find it so wretched that the rest of their lives are ruined (or at the very least, made almost unbearably tortured) by what others have inflicted upon them. The Charity, though, helps them to find a safe place in which to live, takes them to the shops, enables them to live on their own and eventually to just smile, which must surely be the greatest gift of all. They are the bravest women in the world.
Writing each and every paragraph of this has made me cry. I feel so saddened by everything I have witnessed. Having become more knowledgeable and therefore inevitably passionate about this subject, I find it awful that so little is known about it by the public, and as a result so little of this vile 'Trade' is reported. It really is the lowest point of humanity. Whilst the Arab Spring has rightly elicited so much world-wide media attention, the fact that England can still have slaves would shock so many of the population who do not know anything about this secret world. I have learned that not only is the UK a 'final destination' for many of these victims without a voice, but also that our own children and young women are being trafficked within the country itself – a fact which must surely shock even the most UK-centric members of the public.
I am so happy and feel proud to be involved in this production. It is not just 'Art for Art's sake'; I really feel like this could help to facilitate change by raising awareness of the issues and bringing real stories into the public eye. My own character, Elena (again based on a true story) is that of a young woman my own age who, once trafficked, is abused and beaten so badly that she is blinded, but is still forced to continue having sex with clients for so many years in perpetual darkness that she believes death can be the only true escape. Let's not condemn the public, and therefore the victims to this same darkness. Shining a light on this 'Trade' and raising awareness is the only way that things can begin to change.
Anya17 is not just an opera. It's a campaign.