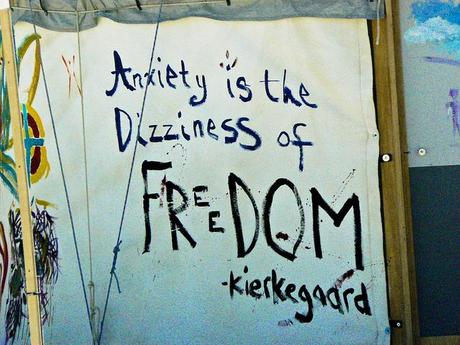 At four I push myself to the middle of a privet bush.
At five I stand frozen at the edge of the swimming pool.
At seven I lock the car door at traffic lights, and unlock it when we're moving.
At nine I start biting my fingernails.
At ten I never put my hand up.
At twelve I press my forehead against a radiator and pretend to be ill.
At thirteen I run.
At fourteen I write my mind into a diary.
At fifteen I fracture into a thousand pieces.
At sixteen I fail my English oral exam.
At seventeen I faint.
At eighteen I feel like I'm drowning on dry land.
At nineteen I try a cigarette for the first time.
At twenty-one I sit in the dark.
At twenty-three I start biting my fingernails again.
At twenty-four I f**k up my first year exams and forget how to spell 'literature'.
At twenty-five I listen to Simon and Garfunkel's I Am a Rock on repeat.
At twenty-six I look at an unopened envelope for over three hours.
At twenty-seven I feel like an ant in a wind tunnel.
At twenty-eight I grind my teeth while I sleep.
At twenty-nine I cut myself off from the world.
At thirty I start smoking again.
Thank you for reading, 
Lara
Email This
BlogThis!
Share to Twitter
Share to Facebook
Reactions: