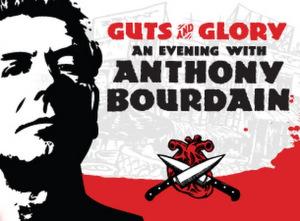 In the world of culinary super heroes there is one man who, through his snarky remarks and laid back attitude, has risen to the pinnacle of his craft. That stellar, unabashedly frank titan is none other than Anthony Bourdain who will be appearing at the Jacksonville Times-Union Center April 25 as part of the Artist Series. Bourdain will storm into town with his Guts & Glory tour to regale attendees with stories of his adventures on the road that are sure to be heavily dosed with his trademark caustic humor.
Bourdain made a name for himself with his best-selling books such as Kitchen Confidential and Medium Raw. In them he reveals the shocking details of what really goes on behind the kitchen doors in hilarious and often sneeringly blunt style. His success has lead him to star in the Emmy Award-winning Travel Channel programs No Reservations and The Layover as well as host of The Taste, a cooking competion series on CBS. His writing has appeared in such luminous publications as The New Yorker, The New York Times, The Times of London, as well as the Harvard Business Review.
But, lest you think food is Bourdain's only love, you need only watch several episodes of his television programs. Beer is a staple on the tables Bourdain sits at and with the company he keeps. Episodes that highlight his love for all things malt and hops include No Reservations' Prague episode and The Layover's Dublin installment. Bourdain has even famously got into a little hot water when he commented on the pulling of Dogfish Head founder Sam Calgione's Discovery Channel television show Brewmasters.
The popular and superb San Marco Dining District is proud to be the Official Restaurant Sponsor of Bourdain's show and is providing a dazzling selection of appetizers for the sold-out VIP reception. In addition to the show, attendees can expect a slew of merchandise including copies of Bourdain's books provided by The Bookmark, the show's Official Bookstore Sponsor. The Omni Jacksonville serves as the show's Official Hotel Sponsor.
Great seats are still available for the Guts& Glory tour ranging from $40.00-$75.00, at the Artist Series Box Office between 10:00 a.m. and 5:00 p.m., at (904) 442-BWAY (2929) and online at http://www.artistseriesjax.org.