"And this is a fig tree", she points out, as we approach my building.  Now that I take a closer look I recognize those large, distinctively shaped leaves I've seen on museum paintings.  Why hadn't I noticed them before?  I learned so much about my natural habitat here when my friend Catherine came to visit from Los Angeles via Transylvania, where she's working on a movie.  No, it's not about vampires.  It's about werewolves.
I've always enjoyed our weekly pazaar where I buy fresh fruits and vegetables from the farmers.  But for Catherine, a gourmet cook, it was a paradise.  We spent the better part of the day there, sorting through the various and mysterious things called vegetables.  Apparently some of these unknown (to me) edibles are actually part of international cuisine: The bulbous white thing I wondered about is a celery root, and the green leafy stalks next to the parsley are a delicate french lettuce called 'mache'.  We bought some of both.  "Okay," says Catherine, "It's decided:  We're eating French tonight."  You can cook French food with ingredients from the Turkish pazaar?  Who knew? ( Okay, probably anyone who can cook.)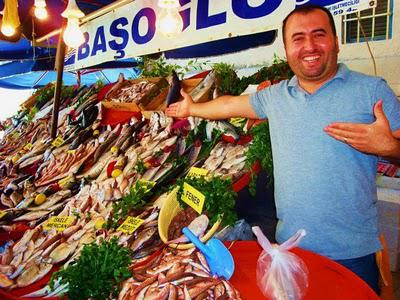 As if she hadn't impressed me enough, Catherine then heads over to the fish market.  The only fish market I shop at is Citarella in New York, where I buy a beautiful salmon filet to throw on my grill pan. It would never have occurred to me to buy a whole fish.  But now I pick out two 'cipura' and the 'balikci' (fishmonger) makes a motion with his hands.  Catherine nods.  "That's the universal sign language for cleaning and scaling a fish" she explains.  Aha, so that's what has to be done to a whole fish.  I'm glad I never tried just buying one and throwing it in the oven as-is.
On the walk home Catherine points to something growing in the wild. "Did you say it was hard to find fresh basil here?  It's right there!"  I meant in the stores, I think sheepishly.  "And see that?  That's rosemary."  By the time we get to the pomegranate growing in the courtyard of my apartment I'm ready to admit I live in the Garden of Eden.
But the piece de resistance is the meal Catherine prepares:  Mache salad to start, roast whole cipura with vegetable (provencale?) sauce, steamed broccoli (the most perfect she'd ever seen, she'd gushed at the pazaar) and celery root puree.  For dessert, fresh figs and honey over yoghurt, and to wash it all down, mojitos full of fresh mint sprigs.  Garden of Eden indeed.