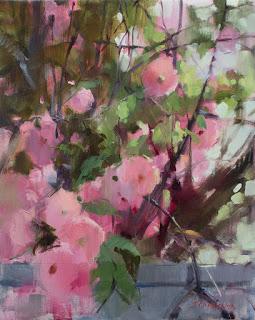 Some of you have asked me to clarify details about this course and I'm hoping this answers any questions that you have.
When and where is the course held and how much is it?
The course runs every Thursday for 12 weeks at Swinton's Art Supply studios in Calgary.
Dates: January 9 - March 26
Hours: 9am - 12pm
Price: $432 + gst
Do I need to have experience in painting to join?
No. This is a comprehensive course that is suitable for beginners and painters in other mediums who want to learn oils from the ground up. You also don't have to have taken Foundations 1. I'll review and reinforce concepts from F1 and will make sure that no painter is left behind.
I've painted in oils in the past. Will this course be too basic for me?
Experienced oil painters have taken this course and they tell me they've learned an enormous amount about paint, colour, composition and brushwork.
The course will fill in any gaps in your basic technical knowledge while also addressing higher concerns such as: creating edge variety; turning a form through value and color temperature; designing a composition in an abstract manner, and much more.
I find still life boring. Can we work from photos instead?
The great Russian painter, Sergei Bongart, said that "if you can paint a still life, you can paint anything". I agree completely. Still life is the most efficient genre for teaching every concept in painting.
By working from life, you'll be training your eyes to perceive subtle color and value relationships, and you'll be challenging yourself to mix and paint what you see. You'll be free of the photo reference which tells you lies like: everything can be in focus at once; shadows are dark, colourless things; buildings lean as they tower overhead; and dogs have massive heads and tiny bodies when you look down at them.
Your learning will be faster and easier if it's done from life.
Really? No photos at all?
Actually, we will work from photos toward the end of the course. Photos have their place in most artists' studios and the knowledge that you gain from life work can help you interpret your photo reference and turn it into a paintable resource.
This sounds great! How do I sign up?
There are currently 3 spaces available and you can contact me to register for this course.
If you have questions that I haven't answered, feel free to send me a note.