Something kind of weird happened this year. For a while, I had chosen to stay home with my daughter, and I did so, for about 10 months. There was a lot I absolutely loved about just focusing on being a mom/wife. But guys, I missed being a school counselor. So much.
I'll never forget when the school year was starting last fall, I experienced what can only be described as a mild situational depression. At first I attributed my sour mood to a bad case of FOMO after seeing lots of back-to-school pictures on social media. But it was more than that. I realized I was ready to return to a school setting.
Fortunately, I still had school connections and serendipitously, there was still a school counseling position open two months after the year had already started. I guess you could say it was meant to be.
The weird thing was even though I started late (and I hate being late), I felt almost no stress. And another weird thing – the staff just welcomed me, trusted me, and let me ease into it.
I feel content with what I was able to provide my students and staff in less than a full year, and I feel ready to expand my goals for next year.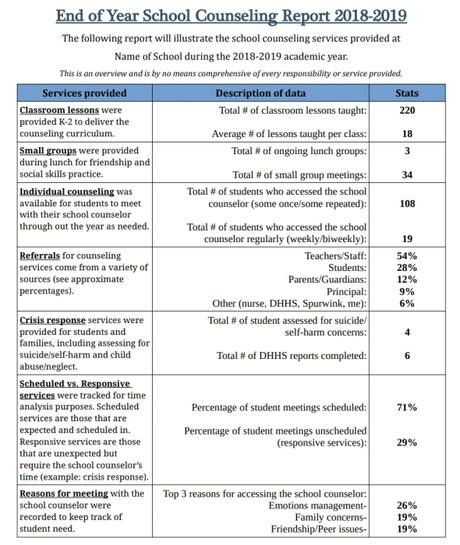 About this report:

This year, I decided to add a small section about the top reasons for accessing the school counselor. Not only is this important for others to see, it's important for my own reflection about my students' needs.
To see this report a little bigger, click here: EOY Report 2018-19
If you're a regular to my blog, you know that I make End of Year School Counseling Reports – you can check out my past reports by clicking on my Data category.
If you'd like to be super impressed (I am), check out this EOY Report by Laurie Mendoza. She loves data more than I do! 😉
Advertisements