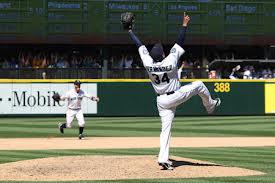 As you all know, Felix Hernandez threw a perfect game against the Tampa Bay Rays yesterday. It was the 6th no-hitter, and 3rd perfect game tossed in MLB this season. (And it was the third time in four years Tampa Bay has had a perfecto tossed at them.)

My friend Dave did a little research, and 2012 is the 11th time a modern season has had 5 or more no-hitters in it. Here they are:
1908 - 6 no-hitters, starting with Cy Young's third (and his first since his perfect game) and ending with Addie Joss's perfect game.  Joss's Cleveland teammate also no-hit the Red Sox, although they scored to lose 2-1.  Except for a Giants-Phillies game caught by Roger Bresnahan, they were all AL games.

1915 - 6, only except for a pair of Giants games they were all in the Federal League and don't count.  Worst-pitcher-in-the-Hall Rube Marquard is the only HOFer here.
1917 - 6. Interesting bookends:  The first this season was Eddie Cicotte, whose battery-mate Ray Schalk played to win the Black Sox series and was one of three members of the 1919 team to make the Hall. The last one was Ernie Shore's "perfect" game in relief of Babe Ruth, who threw 0.0 IP.
1962 - 5.  Forty-five years until we see it again.  Earl Wilson and Bill Monbouquette each did it for the Red Sox, but Sandy Koufax's first is the one you remember, but the only NL game. 
1968 - 5.  Well, duh.  Catfish Hunter and Gaylord Perry.  3-2 NL advantage.
1969 - 6.  Huh---they lowered the mound and more teams got no-hit.  Jim Palmer's only no-no is also the only one for the AL this year.
1973 - 5. MVP Joe Torre did not catch any.  Nolan Ryan's first two, and Phil Niekro, aged 34.  Niekro's game for the Braves was the only NL no-no; even with the DH, the AL held the advantage.  Well, okay, Nolan Ryan held it.
1990 - 7.  Another drought in these intervening years.  The 80s didn't see scoring, but there weren't a lot of no-hitters, either.  First combined no-hitter on this list (if you don't count the Babe-Shore game), as Mike Witt, who previously had thrown a no-hitter, closed out the last two IP for California.  Nolan Ryan's 6th and Randy Johnson's first.  4-2 AL advantage.
1991 - 7.  Two combined no-nos this year, for Baltimore (4 pitchers) and Atlanta (3).  Ryan's seventh, Saberhagen, and Dennis Martinez's perfecto.  4-3, AL.

2010 - 6, not counting Armando Galarraga's shoulda-been-perfect game.  Another drought---this one more understandable---comes to an end.  Braden and Halladay's perfect games.  4-2 NL, or 4-3 with Galarraga.
2012 - 6.  Includes the combined no-no (Kevin Millwood +5 relievers) for Seattle.  Humber, Cain, King Felix throw perfectos.  4-2 AL.