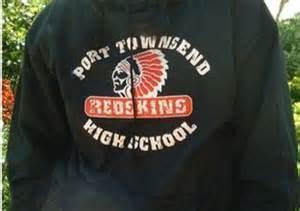 No more school pride?
Retire Port Townsend High's Redskins mascot, advisory panel says
Peninsula Daily News: After a year of study, a panel of local residents has recommended that Port Townsend High School retire its Redskins mascot, which has been in use for 88 years, in favor of one that has no negative connotations for Native Americans.
"The Redskins name needs to be retired with honor and dignity," said Mary Ann Seward, a consultant who was hired to facilitate the committee. "We need to accept that the culture has gone beyond us and that it is time to change." Among possibilities discussed as a replacement was the name Redbirds, but no final decision has been made to change the mascot.
The committee's recommendation, submitted earlier this week, will go to the School Board, which will make the final decision. The decision to keep or discard the mascot is expected to be addressed at the next scheduled School Board meeting June 24.
Meetings usually take place at 6 p.m. in the Gael Stuart Building, 1610 Blaine St., but the district may seek a larger venue due to the expected volume of public comments, according to Superintendent David Engle.
Protests against the use of the name have occurred periodically in the past, but this is the first time they led to a recommendation to change the mascot. Protests were renewed last summer, and the School Board decided to form a committee to study the issue for a year and make a recommendation.
Among those speaking last summer were Jamestown S'Klallam Tribal Chairman Ron Allen of Blyn, who said he opposed the name. Arguing in favor of keeping the mascot was Terri McQuillen — daughter of late Makah elder Mary McQuillen, who died in 2007 after spending much of her life in Port Townsend.
If the board decides to retire the mascot, it could take several years to effect the change because of having to redesign school facilities and replace uniforms and other items. A stone marker donated by the Class of 2006 would have to be removed, as well as the feathered headdress image on the gym floor.
Possibilities discussed included adoption of a name that didn't require changing all the letters, such as the Redbirds, and using the current school colors. "If a decision is made to change the mascot, then the students should be actively involved," said committee member David Backman, Port Townsend High School alumnus and Redskins Booster Club member, on Monday night. "It is the only way they will get any ownership," he said.
Said Walker Wilson, a 2009 graduate who attended the meeting: "As a former student, I recognize that tides are changing. But I think it's important that the ASB [Associated Student Body] not be footing the bill for this."
Those in favor of retiring the mascot say it is demeaning to Native Americans and perpetuates an insulting stereotype, while those in favor of keeping it cite tradition and school pride that have nothing to do with racism or stereotypes.
About 35 people attended Monday's meeting to hear the report, which Seward read verbatim. It is viewable at www.ptschools.org/Page/1373. Also on the website is material assembled during the six committee meetings that took place during the school year.
The committee included School Board member Ann Burkart; Chris Crubaugh, a retired teacher and principal; Vic Dirksen, retired Jefferson Healthcare administrator; Gideon Cauffman, Jamestown S'Klallam tribal cultural resource specialist; Yvonne Starkey, Port Townsend Paper Corp. engineer; Walter McQuillen, Makah tribal member; Backman; and Frank Garred, retired publisher of the Port Townsend-Jefferson County Leader weekly newspaper.
"The Redskins mascot was/is believed to be a source of pride, school spirit and tradition, and was/is also believed to be a matter of embarrassment and an expression of racism," the report said.
"Many students, past and present, are uncomfortable with the Redskins mascot, and the high school sports teams are not universally using it as mascot; some teams have chosen other mascots and are using them," according to the report.
The committee found that people outside the Port Townsend community definitely see the Redskins mascot as racist, while within the Port Townsend schools, alumni and community, "people view Redskins more benignly and favorably out of pride and respect for its longstanding tradition."
For example, 2009 graduate Jesse Yourish said he was embarrassed to let people know the name of his high school mascot, even though he had tremendous pride in the school and the community.
If the change is made, some students won't be quick to buy into it. On Tuesday afternoon, students spending their lunch hour shooting hoops in the gym said they were against a change being made. "It's been our name for a really long time," said student James Delagarza. "I've come to respect the name and really become part of the name, and I think that it shouldn't change."
"I don't think there is any disrespect with this name and don't think it should be changed," said Jack Bishop, another student.
Fellow student Jacob King said: "Redskins have been a strong tradition in this community. "There has been so much respect and commitment to this, I think it's a shame to change it."
If this is so detrimental and racist, then why a YEAR LONG study to determine this, then almost FOUR YEARS to implement a change? Political correctness sure does take a long time.
DCG