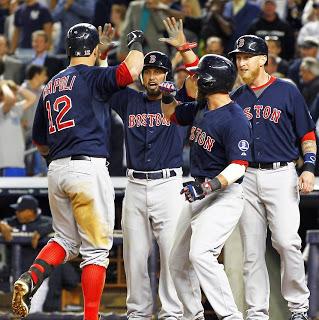 Another night, another soul-crushing, spirit-destroying win for the Red Sox over the Yankees in the Bronx.
Just another incredible comeback by the Sox, turning the tables on the Yankees after what they did in the seventh inning to the Sox on Thursday night.
They blew a five-run lead, capped by Mike Napoli's third grand slam of 2013. Shane Victorino hit a two-run shot in the eighth and the Sox added two more for good measure for a 12-8 win. Koji Uehara did his usual 1-2-3 ninth inning, and has now pitched a "perfect game." (He has retired the last 27 men he's faced in a row.)
The Never Say Die Sox have now scored 41 runs over the past three games, while their AL East lead has increased to 7 1/2 games, as Tampa Bay lost in Seattle. It dropped the Red Sox Magic Number down to 14 to win the division, and 10 to wrap up a post-season berth.
Felix Doubront got hit hard again, lasting just into the fourth inning again, and maybe in danger of heading to the pen. It looked like Ryan Dempster was heading there with Clay Buchholz returning on Tuesday, but now you have to wonder. Doubront would be in the pen anyway should the Sox go the postseason, so he may be there even earlier now.
And Jacoby Ellsbury missed last night's game with a foot injury he reinjured stealing second on Thursday night, and returned to Boston to examined. Looks like he misses the rest of the series. Jackie Bradley Jr. was recalled from Pawtucket and will play center on Saturday.
On the brighter side, the Sox have now won four straight, 11 of 13, and are 13-4 since Ryan Dempster plunked Slappy nearly three weeks ago.
19 games to play. I was hoping for just a split in the Bronx this weekend. The Sox now have that. And they play with the house's money today and tomorrow.